If we've learned anything over the last year, it's that brands and retailers are optimizing every step of the wholesale distribution process from beginning to end. In this post, we'll be discussing a few ways the right B2B payment solution can optimize this process a step further by streamlining the checkout experience with flexible payments and terms.
Many of these changes draw on the dramatic shifts to online shopping in B2C spaces that have consequently elevated B2B buyer expectations. When compared to the plethora of B2C payment options, most B2B payment solutions have yet to adopt the capabilities wholesale buyers need and want to stay ahead in a rapidly changing business environment.
Introducing NuORDER Payments
We built NuORDER Payments with a complete suite of features to improve B2B transactions between brands and retailers. From streamlined checkouts with flexible payment options, to in-depth reporting and statements, this is a B2B payment solution built for wholesale.
Features of a B2B payment solution built for wholesale: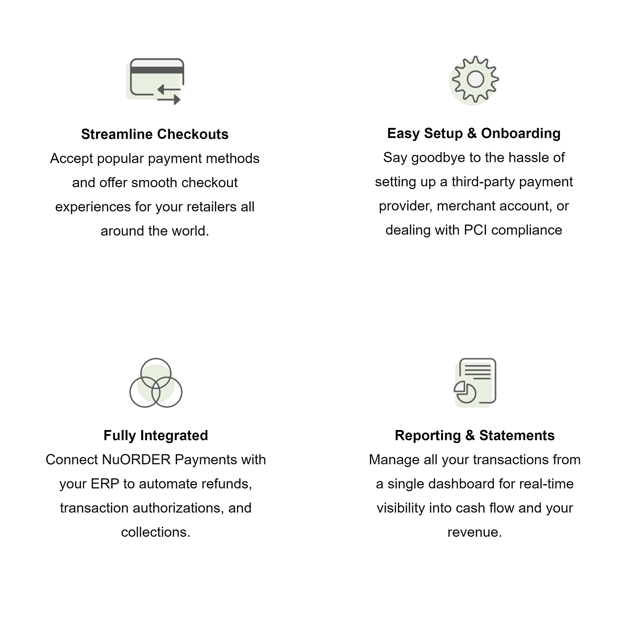 To learn more about what NuORDER Payments can do for your wholesale business, connect with one a payment specialist here.
Scale your business with stress-free global payments
Global B2B payments can be notoriously time consuming, requiring up to six financial intermediaries for a single transaction. When you take into consideration multiple currencies, additional friction points start to pop up: paperwork, bank hours, and additional fees. All of which increase the time and resources your business has to spend to receive payment.
NuORDER Payments reduces the hassle of global B2B transactions by:
Settling transactions in less than 24 hours for faster payout
Allowing retailers worldwide to pay with credit card
Providing payouts in local bank accounts
Equipped with the tools needed for receiving payments worldwide, your brand can scale globally with confidence.
Streamline your checkout process to improve ROI
For many buyers, a confusing order process is among the most commonly cited frustrations within the wholesale process. NuORDER payments enables buyers to store multiple credit cards in a secure digital wallet of payment. Plus, fewer clicks reduce opportunities for confusion during the ordering process, allowing for a smoother, easier checkout.
Additional checkout features include:
Flexible payment terms
Auto-collect payment at time of shipment
Hassle-free split payments
More and more B2B wholesale buyers want flexible payment options that keep them agile. NuORDER Payments has been built with the buyer experience in mind to give them more options for how and when they want to buy. With more payment options and a seamless checkout experience for buyers, your brand has greater opportunities strengthen existing retail partners and reduce the frequency of lost orders.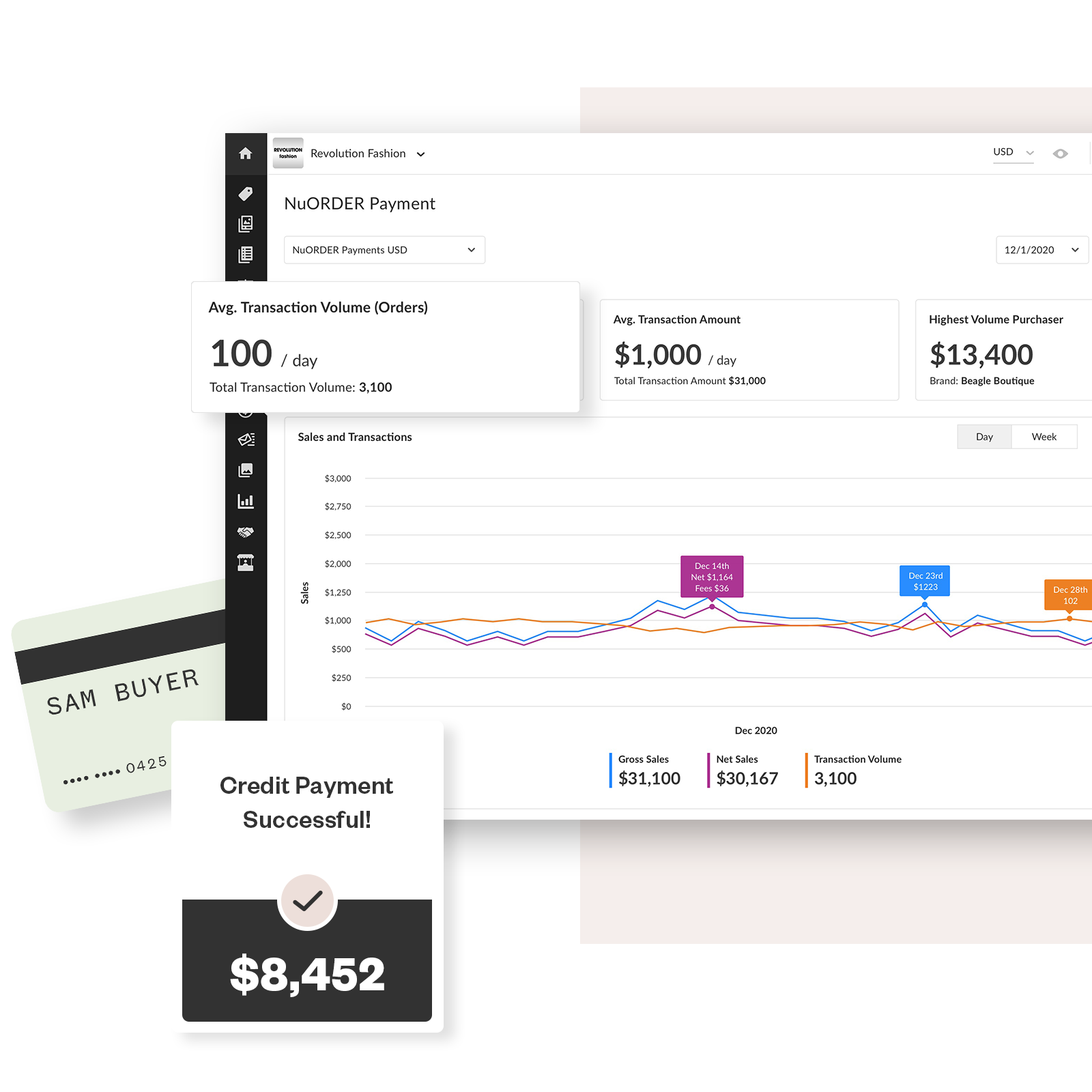 View cash flow and revenue from a single dashboard
Wouldn't it be great to have an all-in-one wholesale platform that combines your orders, returns, and payments in one place. NuORDER Payments is directly integrated into the NuORDER platform to give you a comprehensive look at your business from order to checkout. Maximize your efficiency with a consolidated, real-time view that reduces the cost and hassle of stitching together data from separate platforms.
Our reports and statements provide insights for present-day and long-term success:
Daily Transaction Reporting: view transaction status and associated fees for an accurate view of your revenue.
Monthly Statements: broken down by card type and fees, including interchange fees and chargebacks.
Annual Tax Help: Generate

1099Ks to make sure you're in compliance with the IRS.

Wrap Up
We've seen a massive digital overhaul of the wholesale business from start to finish. B2B payments are up next for a digital upgrade for their ability to give brands and retailers the flexibility needed for today's wholesale transactions . Complete with advanced reporting and insights into revenue and cash flow, digital B2B payments are a welcome addition to the ways tech is revamping our industry.
Ready to upgrade your B2B payments? Click here to speak with a payment specialist today.