Data has shown that wholesale remains a vitally important revenue channel for today's brands. Our recent webinar, The 5 Pillars of Profitable Wholesale, featured insights from industry leaders on how to help your wholesale business succeed. A few of the key discussion points included: tackling supply chain issues, meeting the expectations of B2B buyers, the need for hybrid selling tools, securing more retail partnerships, and the importance of data. By the end of this blog, you'll have a better understanding of how to create a profitable wholesale strategy for your business.
Want to skip ahead and watch the full webinar on-demand? Click here or the button below.
1. Mitigating supply chain issues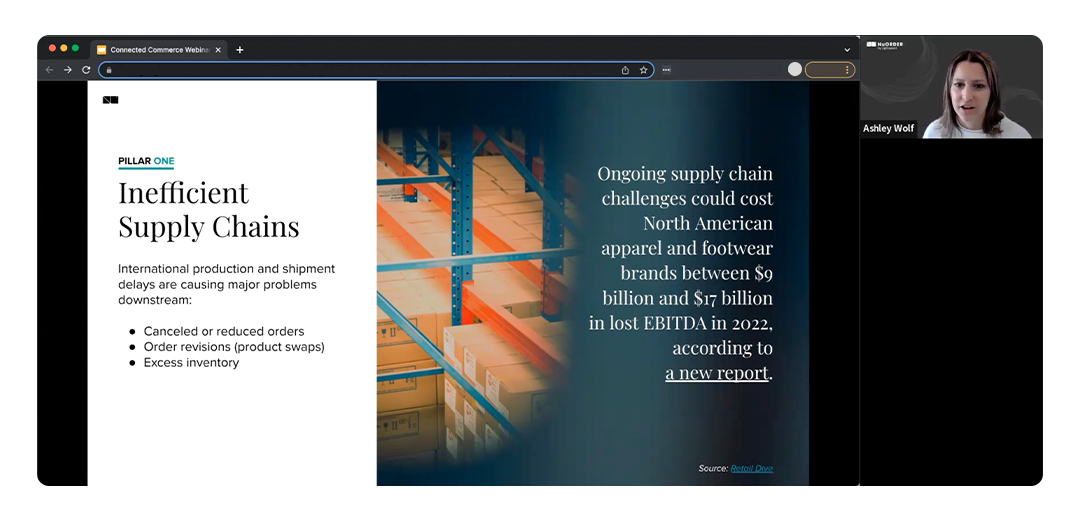 In a report from RetailDive, they found that supply chain issues could cause North American apparel and footwear brands between $9 and $17 billion in lost EBITDA in 2022. For the wholesale industry, this loss takes the form of canceled or reduced orders, order revisions (product swaps), and excess inventory.
So what steps can brands take to mitigate supply chain issues?
Leaning on a robust B2B platform can give you the data insights needed to see real-time updates on deliveries, what's in each shipment, and current inventory levels. Specifically, leveraging a buyer-facing portal can reduce strain on customer service, saving time and energy to capture more wholesale orders. In real-time, buyers can adapt their timelines and calendars to buy smarter and more strategically. For example, a canceled style can be quickly swapped out with an available product to reduce the delay in getting merchandise to customers.
With the type of real-time product and shipping information needed to buy more efficiently, deep integrations between your B2B platform and your ERP provider and shipment services are essential. This may take a bit of time to set up, but a dedicated B2B tool should be able to partner with you to make the process as painless as possible.
2. Meeting the expectations of B2B buyers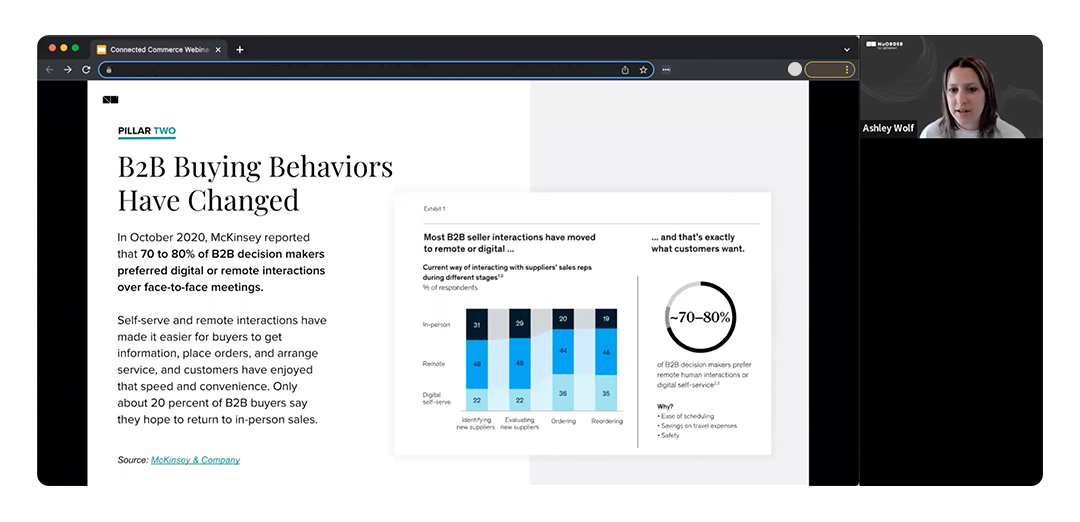 Today's B2B buyers simply expect more. By implementing a D2C-like approach, you put your wholesale business at a serious advantage.
So what does this mean for your B2B homepage? It needs to be an intuitive, reliable, and engaging visual experience for buyers.
Start by creating a clear path for your buyer. Are you trying to move on-hand inventory or secure pre-books? Or push new technology or product group? With this, you can start to customize to appeal to your B2B buyer while also aligning with your business objectives, ultimately helping you both succeed.
Make this B2B portal a one-stop shop where they can explore, learn more about fit, key looks, and prominent flagship products, and place orders when and how they want with ease.
If you're looking for some inspiration, SPANX™ is a great example of implementing an innovative D2C approach to B2B selling. They focused on what buyers wanted and offered a top-notch wholesale buying experience, ultimately accounting for sales from 46 of 48 accounts.
3. The need for hybrid selling tools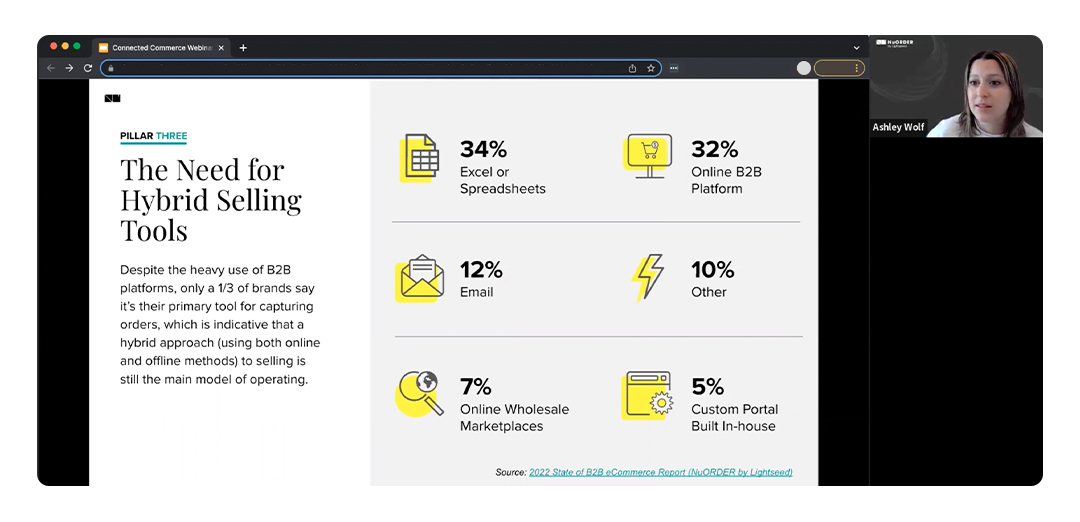 Leveraging today's B2B tools to their fullest potential starts with setting clear objectives company-wide. These tools can go beyond just the order and streamline the entire wholesale experience from start to finish.
For example, Kleen Kanteen was able to reduce order fulfillment time by 70% just by having their B2B platform fully integrated into their wholesale business. On the support side, brands can reduce call volume by having an accessible web portal. Marketing can easily upload new assets and promote specific collections.
These are just a few examples of how B2B tools can and should be leveraged by sales, merchandising, marketing, customer support, and IT teams to help brands work faster, smarter, and more collaboratively.
Here's a checklist of what to look for:
Self-service ordering: 24/7/365 with reliable inventory reporting
Personalized B2B selling: customized assortments and outreach on a case-by-case basis
Integrated systems: Sync with ERP and delivery
Insights and collaboration: track engagement, rep engagement, submitted orders
Global commerce functionality: accessible with a variety of currencies and languages
4. Opening new retail doors
According to an Avionos report, 85% of B2B buyers would turn to a competitor if their supplier's digital channel can't keep up with their expectations. As mentioned earlier, this makes staying on top of the B2B experience you offer incredibly important in attracting retail partners. The right B2B platform will make your retail partners happy and free up your time to dig deeper into existing partnerships and build new ones. Buyers who only want to buy online can be more self-efficient than ever, and for buyers who meet with you in-person, that experience can also be elevated and streamlined thanks to B2B tools.
5. Use real-time data insights
At the crux of it, data is pivotal in running a profitable wholesale business. In fact, Gartner reports that making business decisions based on old or bad data could cost small to mid-sized businesses on average over $15 million per year in losses.
Access to accurate and relevant data isn't always easy. It can be spread across multiple places and confusing to get a coherent and complete picture of your brand's wholesale performance.
To start, find a B2B solution that offers data insights in these 3 areas:
Inventory data
Pricing data
Sell-through data
With this data, brands can develop strategies to cross-sell items, determine what products are doing well, and decide what to invest in for next season and where to place orders ahead of possible supply chain stoppages. Further, managing and storing all this data in one B2B platform can reduce the headache of combining and analyzing data across multiple platforms.
By following these five pillars, you can create a profitable wholesale strategy for your business. Keep these tips in mind as you work on growing your brand! Dive deeper into these concepts by watching the 5 Pillars of Profitable Wholesale on-demand today.