There's a lot to unpack about wholesale in 2022. From business plans, current wins & challenges, and overall outlook, we have the latest data you need to better understand the state of B2B commerce this year.
Our 2022 Industry Report: State of B2B Commerce surveys enterprise brands (who report revenue of $50 million or more) to fill in the gaps about what to know today and how to best plan for the future of wholesale. Read on preview some of our key findings.
Want to skip ahead? Download it below.
Wholesale As A Key Revenue Channel and Leaner Operations
For enterprise brands, our data found that wholesale accounts for 60% of their total revenue.
What's even more surprising, is the fact that these teams running wholesale for their brands are becoming streamlined and efficient. The reason? Technology can make running large-scale wholesale operations easier and more profitable with data insights, automation, and collaboration.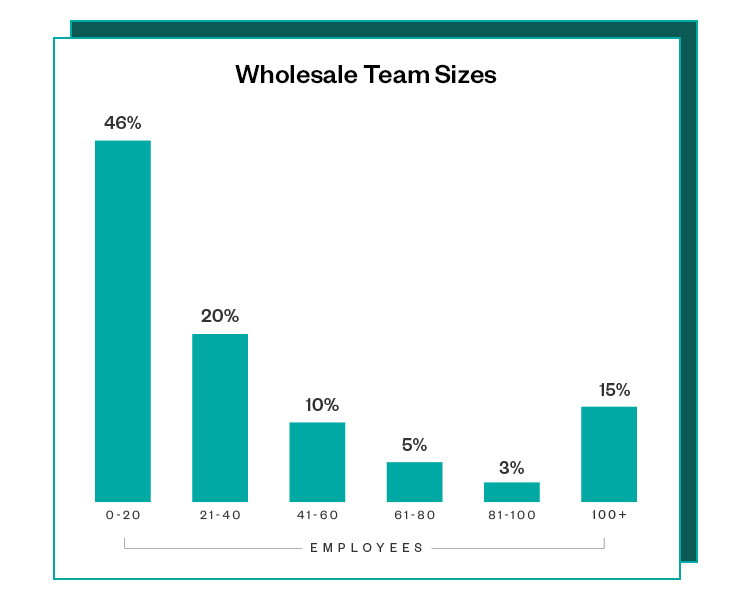 Securing Retail Partnerships
Retail partnerships are at the core of a successful wholesale revenue channel.
Today's enterprise brands are utilizing a hybrid approach to securing retail partnerships, with an even split turning to digital and in-person meetings. We expect there to be a continued demand for a hybrid sales approach that meshes together with the best of both worlds.

Wholesale Distribution Pain Points
There are a plethora of challenges brands are facing today. The top 3 pain points brands shared were with supply chains, lack of standardization, and managing inventory flow.
So, how can brands overcome these challenges?
92% of brands reported that B2B software was a primary way of capturing orders, followed by wholesale processes like shipment tracking, distribution, and inventory also being streamlined by the use of B2B software.

Conclusion
You can find all this and more by downloading our full report. We go deeper into why wholesale revenue is so essential today, overall brand operations and processes, and what to expect from today's B2B enterprise customer. Click here or the button below to get your copy.