NuORDER's very own Fashion Director Tommy Fazio will be joining Amanda Baldwin (President, Supergoop!), Allie Egan (President, Cynthia Rowley) and Audrey McLoghlin (Founder/CEO, Frank & Eileen / Grayson) for a special guest panel discussing the convergence of direct-to-consumer (DTC) and wholesale business strategies in today's complex retail environment. The panel will be moderated by Hilary Milnes, Features Editor at Vogue Business during Fashion Digital NY, an intimate one-day industry event taking place at SVA Theater in New York on Tuesday, October 8th.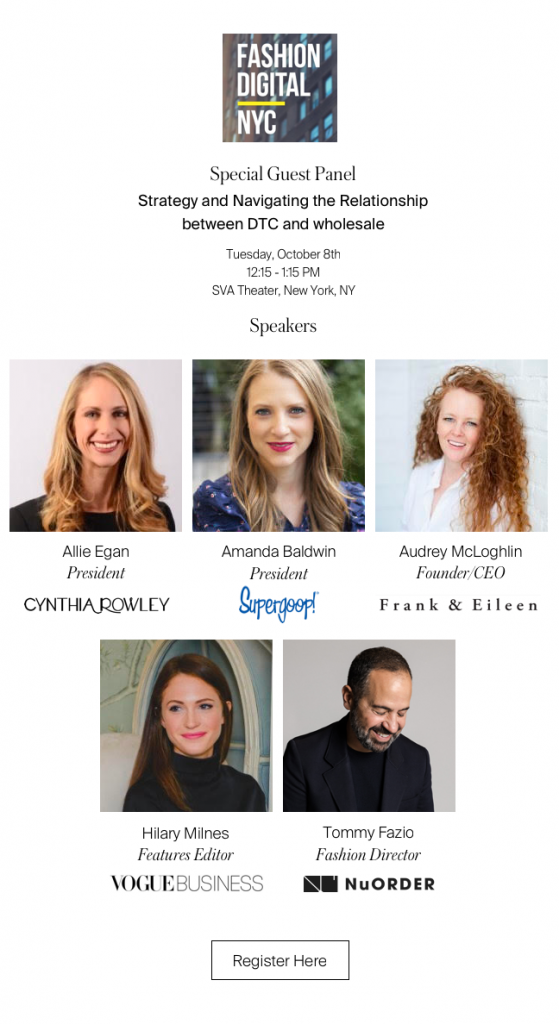 Fashion Digital NY is an daylong gathering for modern brands and retailers that highlights the latest trends in eCommerce, digital marketing, and mobile strategy solutions.
Tommy Fazio will be offering his unique insights as a senior industry executive with business and creative expertise on both the retail and wholesale side. Prior to leading Fashion vertical at NuORDER, Tommy Fazio led over 18 trade shows a year as President of Men's and Women's Wear at UBM Avanstar Magic (now Informa) and served as Men's Fashion Director at majors such as Bergdorf Goodman and Nordstrom. He has also led sales, marketing and merchandising for brands such as Calvin Klien, Simon Spurr, Hickey Freeman, and more -- working closely with high-profile designers to translate their vision into successful collections.
We are looking forward to a lively conversation around how brands are mixing both the direct to consumer and wholesale channels, how technology is spurring strategic changes, how retailers are approaching these shifts, and more.
Stay tuned for a recap of the event!
If you are a client or partner and would like to attend the event as NuORDER's guest with complimentary admission, please email marketing@nuorder.com.