With just a few weeks away from 2022, it's time to start planning a New Year's resolution. To make your brand's new year planning a little easier, we're sharing 3 major trends from our newest ebook "Important Wholesale Trends Influencing 2022".
Read more tips and download the free ebook:
Read on to preview 3 key trends to expect in the new year.
Trend 1: Digital Shifts Propel Record-Breaking Sales
Brands are increasingly moving their wholesale business to a 100% digital sales model that consists of an interactive B2B portal where retailers can access up-to-date inventory, review and edit orders, and leverage sell-through data.
Take for example Danish brand Minimum, who captured double-digit growth in three out of four of their key markets in 2020 after using NuORDER's Virtual Showrooms, curated digital assortments, and rich multimedia visuals to sell online exclusively.
As more brands switch their wholesale business to a 100% digital sales model consisting of an interactive B2B portal, retailers can now access up-to-date inventory, manage orders, and leverage sell-through data.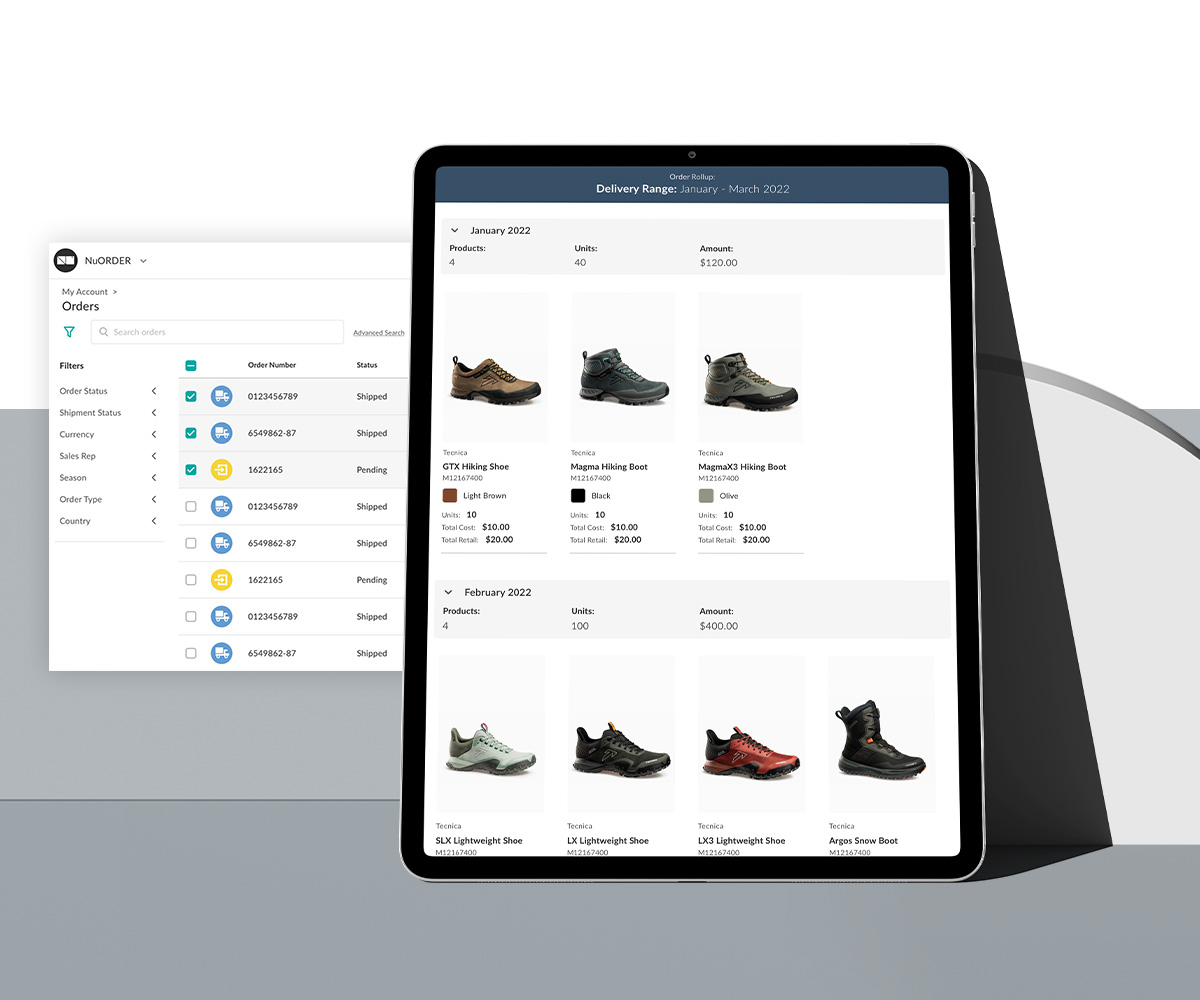 Trend 2: Flexible Fulfillment Counters Supply Chain Woes
Supply chain disruptions will persist through 2022, pushing retailers and brands to get creative.
Leading sports footwear manufacturer Tecnica upgraded its DTC, B2B, online and offline commerce ecosystem, improving its fulfillment capabilities in a radical, consumer-centric way. These changes allow them to shuffle inventory in real-time, enabling in-store pick up regardless of the store's stocking position.
With production delays hot at their heels, brands are introducing drip campaigns to throttle and gamify product releases with rewards and even digital tokens like NFTs.
Trend 3: Everywhere, Anytime, and Always-On Commerce
Brands are increasingly moving toward consolidating order-fulfillment, payments, and inventory through a single solution that allows for 24/7 self-service buying.
Global spending on order management software will grow to over $1 billion in 2022, on its way to $1.5 billion in 2024. Investments in an integrated solution mean that businesses can enable 24/7 commerce that allows for a sell-anytime model.
Conclusion
The hard-earned lessons over the last two years have taught us that agility is the name of the game.
When running a business that requires efficiency, an integrated B2B eCommerce platform can be an effective solution. Solutions that manage inventory, payments, and fulfillment are becoming a necessity in today's world.
This coming year will continue to present challenges that the industry is now more primed than ever to confront. A season of growth is pushing us towards greater innovation, and there are B2B solutions available to help you adapt for success.
NuORDER by Lightspeed, the only connected commerce platform that helps brands and retailers grow and win together. Brands can use NuORDER to deliver a seamless, more collaborative wholesale process, where buyers can browse products, plan assortments visually, and make smarter buys in real-time. Headquartered in Los Angeles, California with offices globally; NuORDER connects more than 2,000 brands and 500,000 retailers globally.
Interested in learning more? Click here to speak with a wholesale specialist.