The Scandinavian brand, Minimum, achieved outsized mid-pandemic growth with digital sales appointments and the NuORDER Virtual Showroom tool. In spite of international obstacles, Minimum grew its wholesale revenue and gave their products new life in a digital setting.
A Virtual Showroom is a branded, interactive B2B portal that combines product, collection and brand details with curated assortments, rich multimedia visuals, eCommerce capabilities and more. It empowers sales reps, buyers and brands while enabling cohesive communication and collaboration across marketing, merchandising and sales. It's a powerful tool for brands in sectors as diverse as apparel, outdoor, sporting goods, and home and garden.
Want to see our virtual showroom in action? Click here to request a demo.
Meet Minimum
Minimum is a Danish menswear and womenswear brand that operates internationally. The brand produces accessible yet stylish, high quality and well-fitting apparel. Minimum's eco-conscious efforts include sustainable production processes, the use of environmentally-friendly fibers, an evergreen collection of core essentials and more. Read on to learn how our Virtual Showroom brought this first-year NuORDER client incredible success.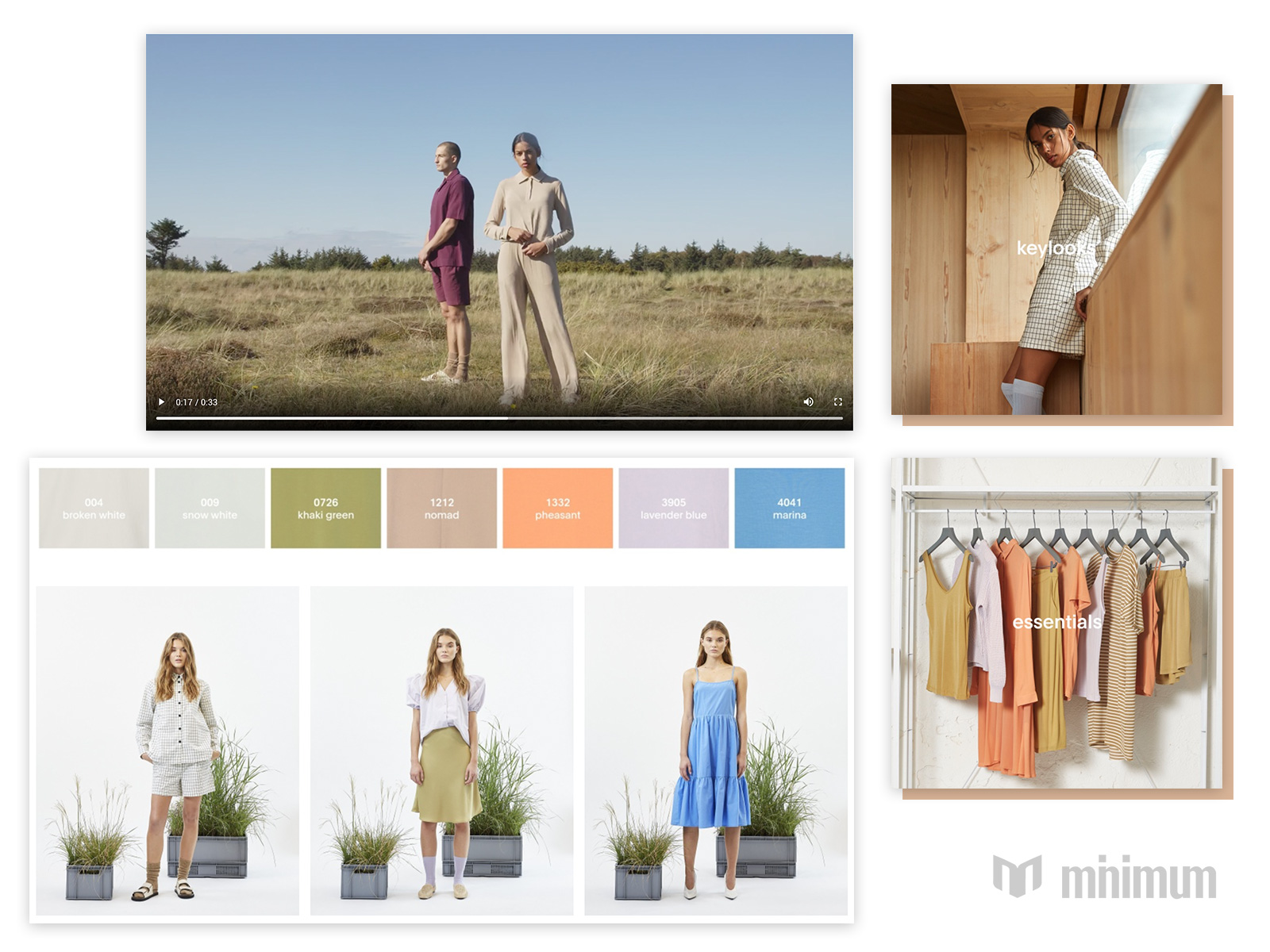 Challenge #1: Selling During the Pandemic
The Solution: Host Digital Sales Appointments
At the onset of the 2020 pandemic, Minimum quickly adapted their sales tactics to continue expanding their wholesale business. Faced with selling from afar for the foreseeable future, the brand looked to NuORDER's Virtual Showroom to run more effective digital meetings. In preparation for upcoming marketing appointments, they created predefined and personalized EZ Order linesheets based on key seasonal trends, must-haves and data on past order performance. These EZ Order linesheets were shared directly with buyers to save time and facilitate/streamline the process (they only require quantity per SKU). The platform also allowed Minimum to centralize their communications across all international markets and clientele.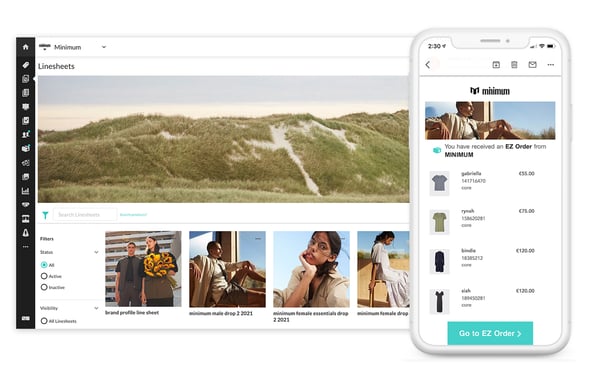 An EZ Order is a pre-filled order form to make it "easy" for the buyer. All they need to confirm are quantities per SKU.
"...we have invested in the prerequisites that we believe must be in place to be able to stand stronger on the other side and at the same time act along the way. Our sales of the SS21 collection are a good indicator of this so far."

CASPER BECH OLESEN, INTERNATIONAL SALES MANAGER, MINIMUM
Challenge #2: Bringing Products to Life, Digitally
The Solution: Maximize the Power of NuORDER Virtual Showroom
Minimum realized they needed to take advantage of all the powerful features Virtual Showroom's have to offer if they were to successfully display the full breadth and depth of their products digitally and sell them online. They used NuORDER's easy to modify drag 'n drop features to quickly customize their Virtual Showroom to bring their products to life digitally, while incorporating storytelling and sharing the essence of their sustainable brand.
The landing page showcased different seasons, guiding buyers through their narratives in a visual-rich and inspiring experience. A branded video set the tone for each collection, followed by the design themes and direction as presented by Minimum's lead designers. Next, buyers were guided through the seasons' key looks. Each style was supported by a 360-degree video, allowing buyers to view products from every angle and zoom in for close-up details (360-degree videos may be captured in-house or via NuORDER's global photography network). Finally, Minimum used shoppable hotspots in their campaign images and key looks to create a dynamic experience and facilitate easy sales.
Virtual Showrooms offer endless possibilities for brands to provide unique buying experiences ; it may be used to share custom access with specific buyers, merchandise by a wide range of parameters (season, color, delivery date….) and allow buyers to save order drafts to pre-plan their buys. Everything from international size guides and inspiration may be shared, along with press, Instagram feed previews, digital catalogs, moodboards, video tours and more.
"Our industry lives by the courage to constantly change the way we do business. It is about adapting and creating the conditions to be able to reach goals and succeed in the changing world situation we are in."

CASPER BECH OLESEN, INTERNATIONAL SALES MANAGER, MINIMUM
The Results
Aided by NuORDER's Virtual Showroom, first-year client Minimum enjoyed incredible success in 2020. Their sales reps and in-house sales teams were empowered to do better business from afar, delighting buyers with personalized digital sales appointments, immersive presentations and easy online ordering. In a market significantly impacted by COVID-19, Minimum realized double-digit growth in three out of four key markets (after analyzing SS21 sales). NuORDER is now the primary sales tool for their team.
"NuORDER has in the past 9 months provided a professional complementary tool for the physical meetings due to the Covid-19 situation. The platform has supported our digitalization as a company and made us more efficient in our selling process."

CASPER BECH OLESEN, INTERNATIONAL SALES MANAGER, MINIMUM
Request a demo to learn more about NuORDER Virtual Showroom and how it can increase sales and streamline internal communications.
NuORDER is the leading wholesale eCommerce platform, helping brands and retailers grow and succeed together through technology and exclusive buying partnerships. Our B2B platform improves the buying experience -- enhancing the process with realtime inventory updates, valuable data and insights, tools for marketing, merchandising, sales and more.