Gone are the days of manually input (and error-prone) orders and a cumbersome fulfillment process. Today's brands are selling smarter with digital tools that offer data-driven, personalized selling and streamlined wholesale buying from start to finish. With the click of a button, they can share linesheets and track performance to gain actionable data insight.
Inside the NuORDER platform, this is made possible with Campaigns and EZ Orders. When used in tandem, brands can sell more efficiently and intelligently.
Campaigns: Each email sent out from NuORDER automatically becomes a "campaign". Campaigns can be viewed within NuORDER and offer data insights to further inform your outreach.
EZ Orders: Turn linesheets into shoppable experiences with a click of a button. Buyers can download the linesheet in a beautiful printable form, or click directly to the order form.
Read on below to learn about the strategies top brands utilizing to boost orders with Campaigns and EZ Orders.
View campaign analytics
After sending out your latest linesheet via EZ Order, take a look at the campaign analytics to see what's working and what needs some adjusting.
Key campaign analytics to take note of:
Overall orders placed and open-rate between different groups of buyers and campaigns
Which individuals interacted with what and who skipped out on opening your email send
From there, you can create new groups from these contacts and retarget them with a new approach. This new approach might involve sending buyers a different range of merchandise, custom pricing, or different messaging.

Personalize and segment campaigns
Personalization is more important than ever and with the proper functionality, you can easily customize and segment your promotional messaging to better reach buyers.
Here a few ideas for segmenting campaigns:
By location: target buyers in specific regions by season or trend
By budget: create unique price lists for major vs boutique buyers
By vertical: create sends focused on specific product categories
Contact groups are a great way to create lists of segmented recipients for your campaigns. Smart groups can auto-populate contacts by geographic attributes like country, state, and zip code. Fixed groups are built by manually inputting contacts one by one and will not auto-populate new contacts.
When it comes to messaging, we have a few tips:
Include a message that personalizes beyond "Fall 2021 linesheet"!
Include a way for buyers to contact you outside of NuORDER
Add a Calendly link so they can schedule a face-to-face meeting
Be sure to include a call-to-action (CTA) that entices the buyer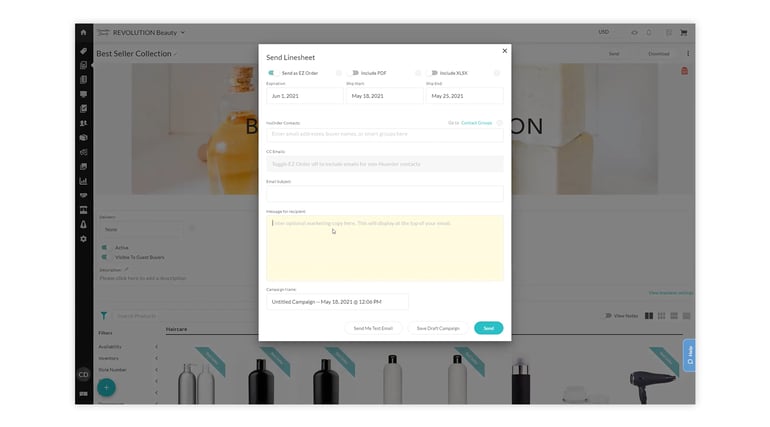 Minimize barriers to conversion (make it easy to buy!)
In our Future of Wholesale Report, buyers stated that lack of alignment on ordering was a significant pain point with wholesale distribution. But with the right tools, your brand can alleviate the stress of a complicated order process and ultimately increase the number of orders placed.
Once you send an EZ Order, buyers receive an email with a direct link to your linesheet and can enter their desired quantities, bill to, and ship to information. The completed form will be sent back to the brand to be filled. This simple and streamlined method for sending linesheets and capturing orders reduces the barriers a buyer might face when completing a buy. There is no need to sign in, view a separate order form, or go back and forth with exchanging information.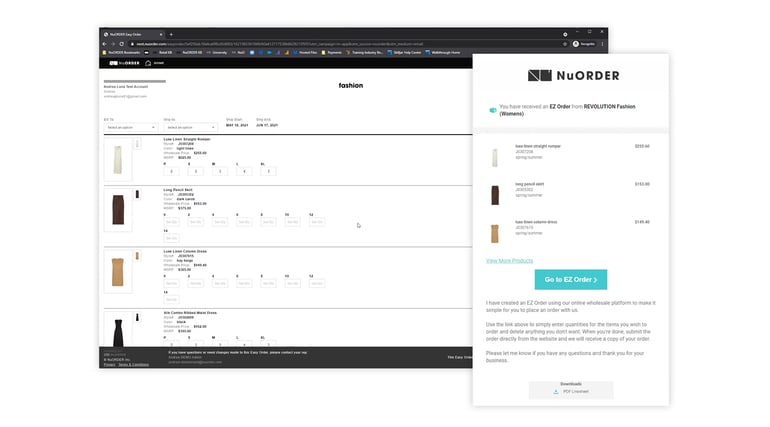 Conclusion
With Campaigns and EZ Orders, brands can give their partners an easier way to buy without the hassle. Buyers can explore, shop, and checkout from one unified platform on NuORDER. With barriers to purchase reduced and additional data insights, brands can leverage these benefits to achieve more orders.
Interested in how your brand can use EZ Orders and Campaigns to boost orders? Click here to speak with a representative to learn more. Looking for more technical information? Check out our Helpdesk to find in-depth guides on EZ Orders and Campaigns.