Our latest report The Art of Personalized Selling breaks down how brands are leveraging valuable data to sell better. From personalized in-person appointments to creating and sharing linesheets, learn how brands are integrating technology with tried and true business practices to improve sales.
We surveyed 99 wholesale executives on the topic of data and personalization to better understand how brands are selling their products. Beginning in December 2019 and concluding in late 2020, this report provides a valuable look at how brands were and still are using data to drive their businesses.
Here's what we learned:
Read below for a preview of the topics covered:
The future of in-person sales appointments
73% of respondents stated that in-person appointments are a key driver for wholesale orders with retailers. However, these meetings are blending together digital with physical, with respondents strongly preferring B2B eCommerce platforms and email as the best way to share product catalogs and linesheets.
The benefits of modern-day B2B solutions are not to be ignored and their widespread adoption points to a meaningful transformation in the wholesale buying process for brands and retailers.
A few reasons why:
Ease-of-use: B2B solutions streamline the creation of linesheets, ordering, and checkouts.
Flexibility: Adjust visibility for specific products across your brand portal for specific buyers.
Customizability: Create and share personalized linesheets and catalogs in a timely manner.



Personalization is key in meeting buyer expectations
74% of brands believe that personalization is essential to the buyer. Static linesheets, digital or analog, don't give brands the customizability of more advanced B2B solutions. Despite many reporting personalization as being so essential, they were unable to due to lacking the right tools or having enough time to do so.
For Menswear brand Mizzen + Main, they were able to find a solution in the Whiteboard tool. The tool enabled their team to collaboratively generate customized catalogs for retail buyers in much more timely manner than PowerPoint presentations or static PDFs.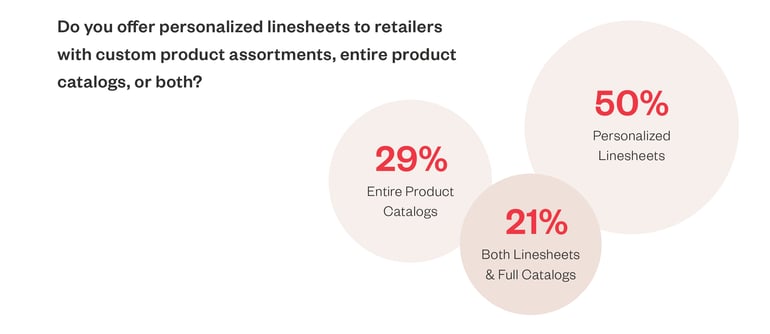 How and where to find data that reveals buyer interest
Data is driving these brand's personalization efforts. What types of data are they looking for?
Previous order history
Retail sell-through data
Buyer Activity (email, social media, etc.)
Without the right tools, compiling data can be tedious. B2B eCommerce platforms allow for a streamlined look into best sellers, cancelled product history, and understanding buyer purchasing trends. With 73% reporting data as influencing recommendations frequently or all the time, the rise in the adoption of B2B tools is no surprise.
Conclusion
There's no question that data-driven selling is becoming more and more critical for running a wholesale business today. When combined with the tried and true methods of meaningful partnerships, intuition, and technological advancements, brands are able to maintain a competitive edge while also freeing up valuable time to develop their creative vision.
If you're looking to implement your own data-driven sales strategies for your wholesale business, read our full report on Data Personalization here or click the banner below.