Our fashion director, Tommy Fazio, sat down with us to determine what the most iconic trends are that have emerged from Paris and Milan Fashion Week 2022.
Trend #1 Modern 1920s
1920s women's fashion is known for its feminine, modest look. A typical autumn day outfit in the 1920s might consist of a blouse, pleated skirt, and a cardigan or jacket if going outdoors. This year, designers are taking a modern twist on 1920 fashion and bringing it back to the runway with elegant stylings of skirts and dresses with the classic drop waist and hems just below the knee.
Brands That Are Doing It Right: Prada, Givenchy, Brunello Cucinelli
Prada modernized the 1920s feminine fashion with skirts having a sheer fabric that falls from the waist or mid-thigh. Givenchy updated the look of the iconic "flapper" with thigh-high boots and a blazer, while Brunello Cucinelli replaced the famed 1920s cloche hat with a beanie and traded heels for boots to create this past to present look.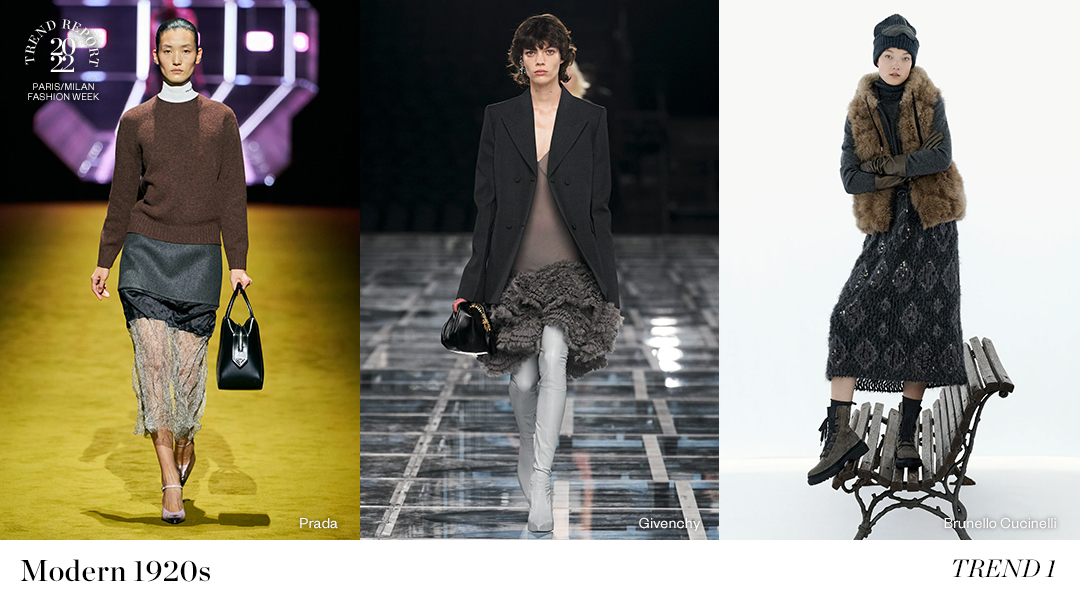 Trend #2 Shoe Art
The signature shoe is becoming an accessory of the season. With platform heels and ankle strap detailing, designers are referencing art as an influence for the accessories you're seeing on the runway.
Brands That Are Doing It Right: Bottega Venetta, Lanvin, Loewe
This season, all three designers are noted for taking influence from historic art periods for the innovative and decorative accessories you're seeing on the runway.
Specifically, Lanvin creative director, Bruno Sialelli, finds influence in the Art Deco period, its work known for its symmetry, and geometry. As well as referencing feminist art, Loewe creative director, Jonathan Anderson, shares remarks about the fall collection, noting that it will be "pushing things toward something that could be irrational".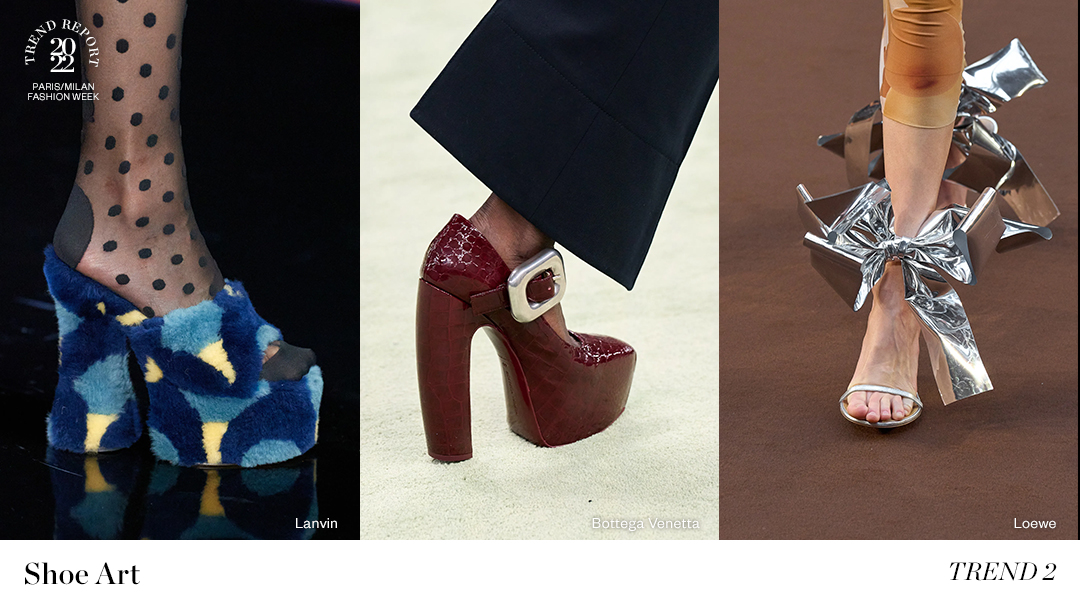 Trend #3

Statement Coat
The statement coat is a must-have piece of the season; it's the first layer you'll notice when you walk into a room.
Brands That Are Doing It Right: Tom Ford, Prada, Gucci
Designers are exploring striking designs that are definite conversation starters: from Tom Ford's jewel tones to Prada's faux fur sleeves that are already adorning stars like Daniel Kaluuya on the red carpet, to Gucci's stunning spotted coat.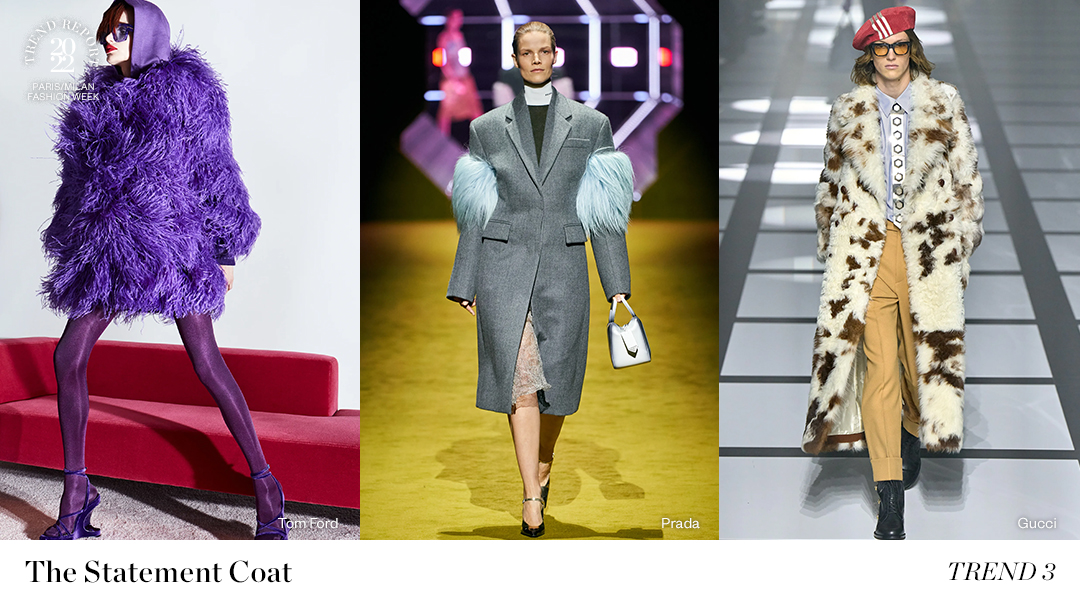 Trend #4 The Wrap
Despite the fact that many looks from Paris and Milan fashion week stray from comfort, the wrap returns us to comfort and luxury. Donna Karen introduced the wrap dress in the 90s and now it's coming back in a luxurious way with several ways to wear it.
Brands That Are Doing in Right: Louis Vuitton, Etro, Balenciaga
Each designer brings a distinct personality to this look. This season, Louis Vuitton creative director Nicolas Ghesquière focused on youthful experimentation which shows in the modern styling of this textured wrap. Etro brought a boho 70's style to this look and Demna Gvasalia of Balenciaga took a dark and classic take on this look to transport us to a different environment.
Wrap Up
After two years, Paris Fashion Week and Milan Fashion Week are back in full effect. Outside of Paris Fashion Week events, hundreds of kids stood outside screaming for celebrities and Tik Tokers reigning in new energy to the famed fashion events we know and love. In their fall and winter collections, designers drew inspiration from the past and present to design new, modern pieces which once again push us fashion-forward as we step out of our comfort zone.