Fall 2022 Menswear has proven to be inspiring, innovative, and just what we need after the last 20 months. Fashion week may have concluded but NuORDER has a pulse on what's new. In this post, NuORDER's Fashion Director Tommy Fazio highlights 4 of the biggest trends to come out of Fall 2022 Menswear.
Trend #1 The New Tailoring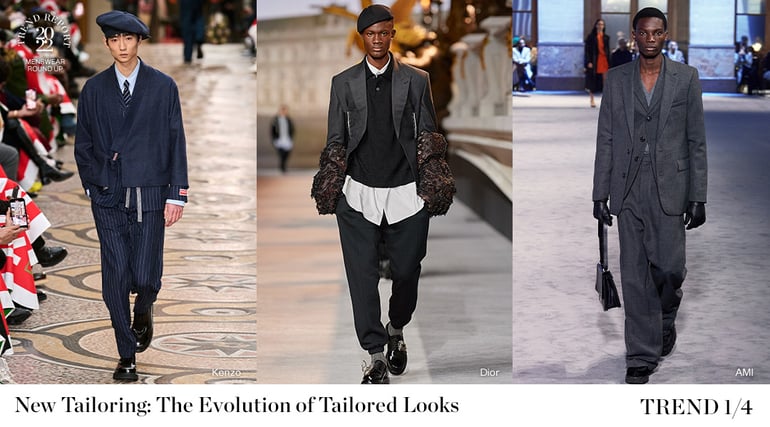 This trend is about creating a look that is both pulled together but still allows the wearer comfortability. The look is tailored and caters to the form of the individual.
Kenzo revolutionizes this look with a sports coat: it's easy, comfortable, and relaxed.
Dior takes an easy approach to this trend with an untucked shirt and wide-leg track pants, giving a more cool and laid-back spin on the trend.
This fall, AMI shows us what a 3 piece suit looks like today. It's longer, looser, and gives an androgynous feel.
Trend #2 The New Preppy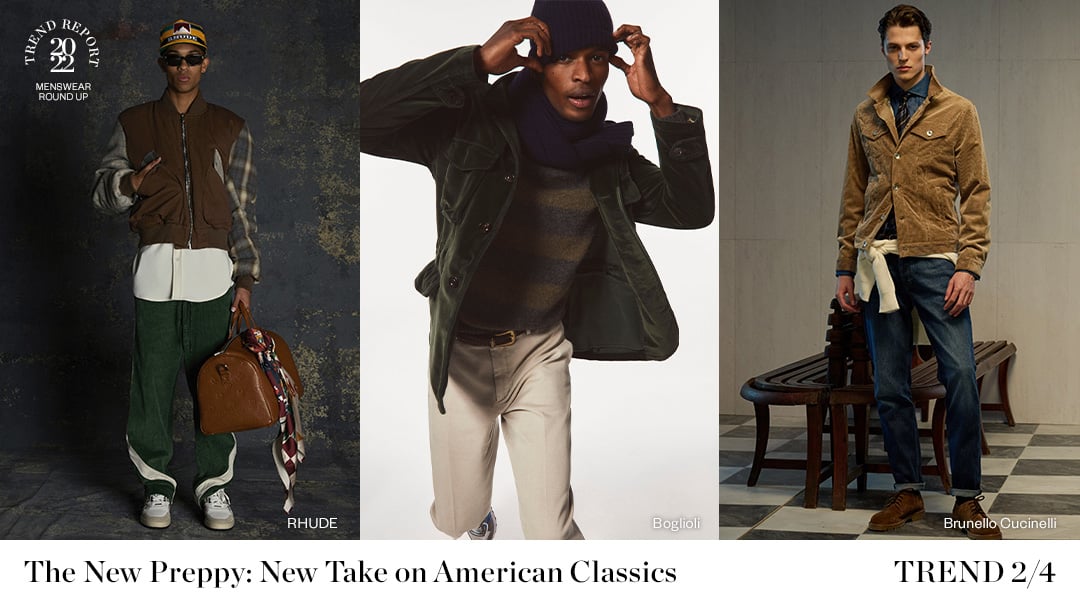 The quintessential American style reaches global audiences.
RHUDE delivers an effortlessly cool new flair to the preppy style. Though the collection utilizes the plaid print and structured silhouettes indicative of the preppy look, the persona of the modern Wall Street young investor is roped into the look offering a more contemporary and comfortable feel.
Boglioli introduces a casually preppy look with cashmere coats with a soft shoulder, offering a trim fit, and modernizes the look with a pair of New Balance sneakers.
Cucinelli is known for its signature casually debonair look. This season they updated their dapper appeal with soft tailoring creating looser proportions and the inclusion of brighter hues to appeal to younger generations.
Trend #3 The Casual Dandy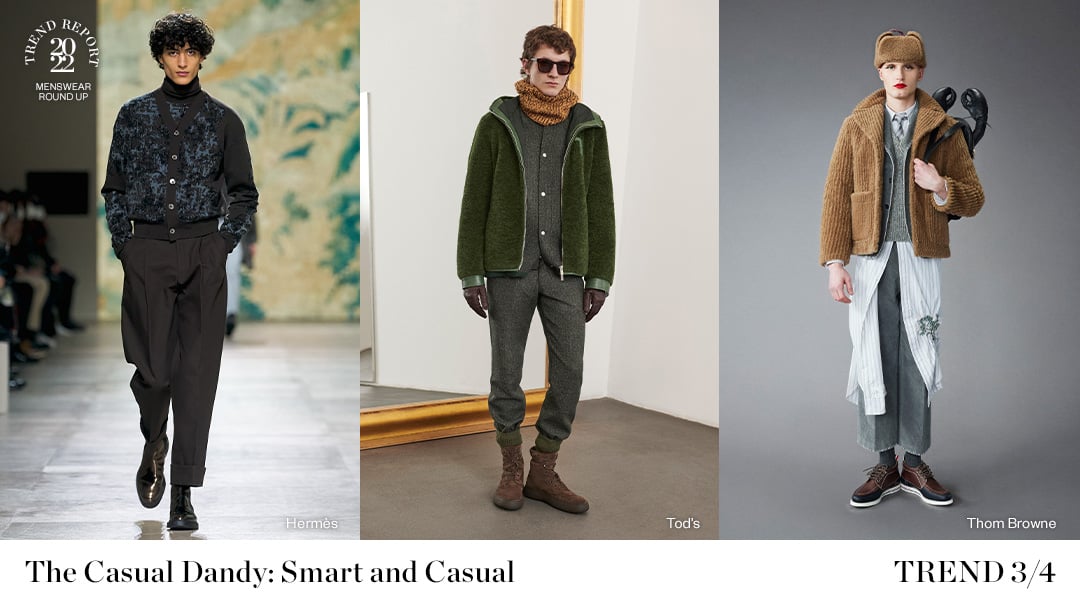 This trend has been a part of men's fashion for a long time. It includes smart dressing that is both casual and comfortable with a fashion edge. This season of men's fashion has moved the casual dandy forward with new silhouettes, textures, and patterns.
The Hermés collection is deliciously dandy but updates the look with a loose leg shape, striking pops of color, and graphic patterns.
Tods takes the classic shearling jacket borrowed from the '70s style everyday uniform and switches up the look with a new color. This dandy look is modernized across the collection with new fresh boot or sneaker looks paired with the ensembles.
Thom Browne has an extreme take on the casual dandy look with new, shorter proportions on blazers and jackets and mid-shin pleated skirts. His version is a fanciful reimagination of the dandy with models wearing long lashes and donning tote leather lobster bags and backpacks.
Trend #4 - The Other Side of Aspen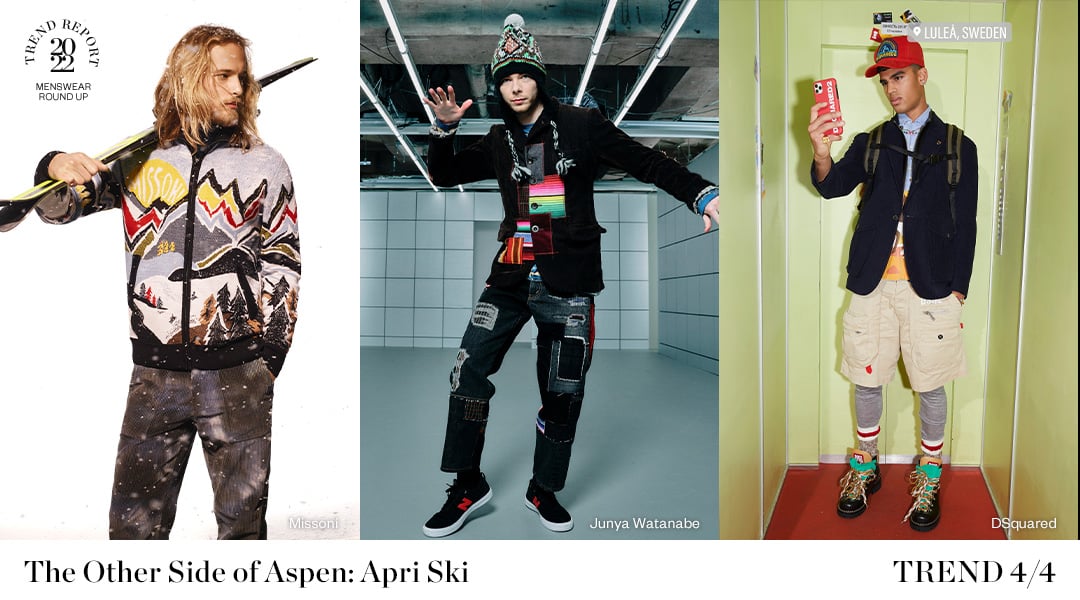 The Aspen we're used to is prim and proper, but on the other side, you'll find eclectic and unexpected looks on how fashion translates ski apparel into modern-day wear.
Missoni takes the quintessential ski sweater and makes it modern and cool for streetwear with abstract and colorful graphic patterns, bringing a new life to the Missoni signature knitwear.
Junya Watanabe creates a fresh, crafted look mixing fabrics and textures with Mexican serapes and Navajo blanket patterns patchworked into Watanabe's jackets and jeans.
DSquared2 takes the quintessential pieces from ski wear and mixes them with everyday sportswear. Some may not think to put these pieces together, but when DSquared does it looks incredibly cool. In this look, Dsquared2 highlights contrasts such as a party up top with the fitted hat, business on the torso with a blazer and collared shirt, and a completely sporty look down below with cargo shorts and outdoor footwear.
---
Menswear fall 2022 collections feature new and innovative takes on classic trends, sometimes influenced by streetwear fashion. As designers strive to keep up with younger audiences, we can expect a greater focus on modernizing the men's fashion looks we know and love.