Over the last few weeks, we've held a few webinars on digital selling filled with the top tips and trends from B2B eCommerce experts, successful brands, and industry leaders. Join us as we take a look at some of the most useful information found from these webinars and use it to improve your virtual selling in the new year.
Here's an overview:
Keep building relationships with your retail partners
In our webinar B2B eCommerce Trends In 2021 That Will Be Impossible to Ignore, Sarah Sandberg, VP of Customer Success at NuORDER shares how maintaining strong relationships with your wholesale buyers is mutually beneficial in the long term.
But what does maintaining strong relationships look like? Give them flexibility with orders and work together to find solutions that meet both of your needs. These buyers will remember how you navigated these uncertain times with them as partners and not just as customers.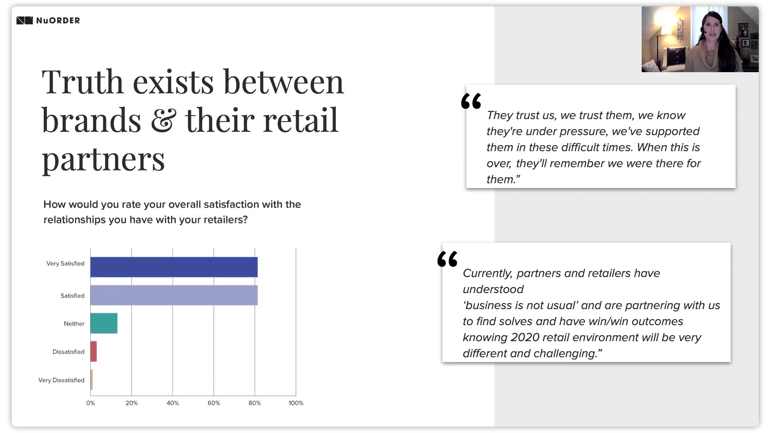 Being omni-channel is more important than ever
As a brand, meeting your customer where ever they might be is more important than ever. This means establishing a strong omni-channel presence with online and offline retailers, your own eCommerce site, and D2C methods are all vital for maximizing growth and revenue. In fact, 1 in 4 brands are still committed to investing more in wholesale over other channels.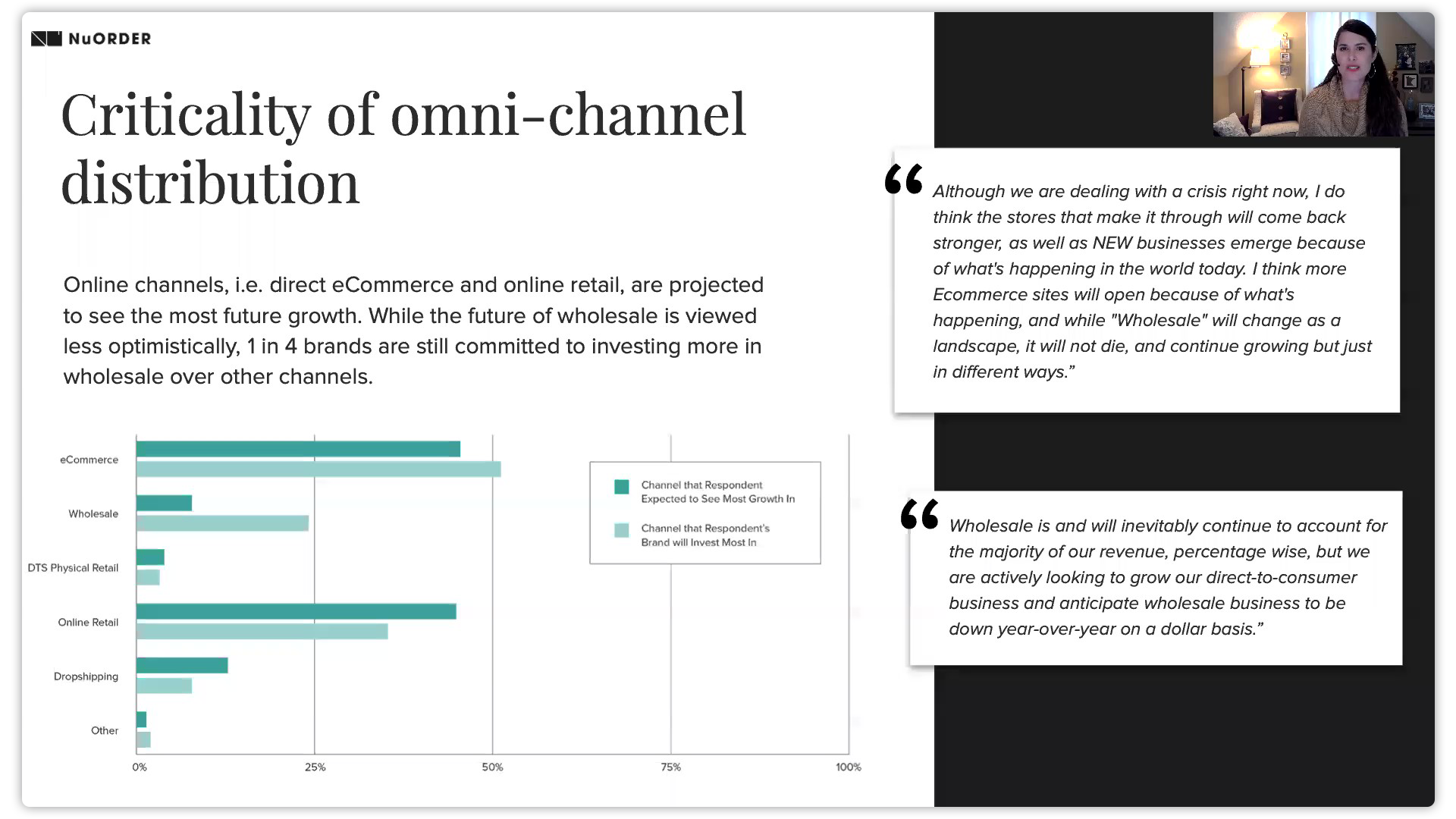 Breaking down an effective virtual appointment
NuORDER B2B eCommerce Expert, Tom Groves, shares a step-by-step guide to virtual appointments in the Master Class for Online Selling Part I: Every You Need To Know To Go From Beginner To Pro.
Step 1: Schedule an appointment with your buyer and prepare your virtual conferencing app

Step 2: Prepare what you're going to show via PowerPoint, NuORDER, etc

Step 3: Intro your collection, and talk about what matters most to your buyer

Step 4: Follow-up clearly with the chosen styles, marketing content, imagery, and an order form for quantities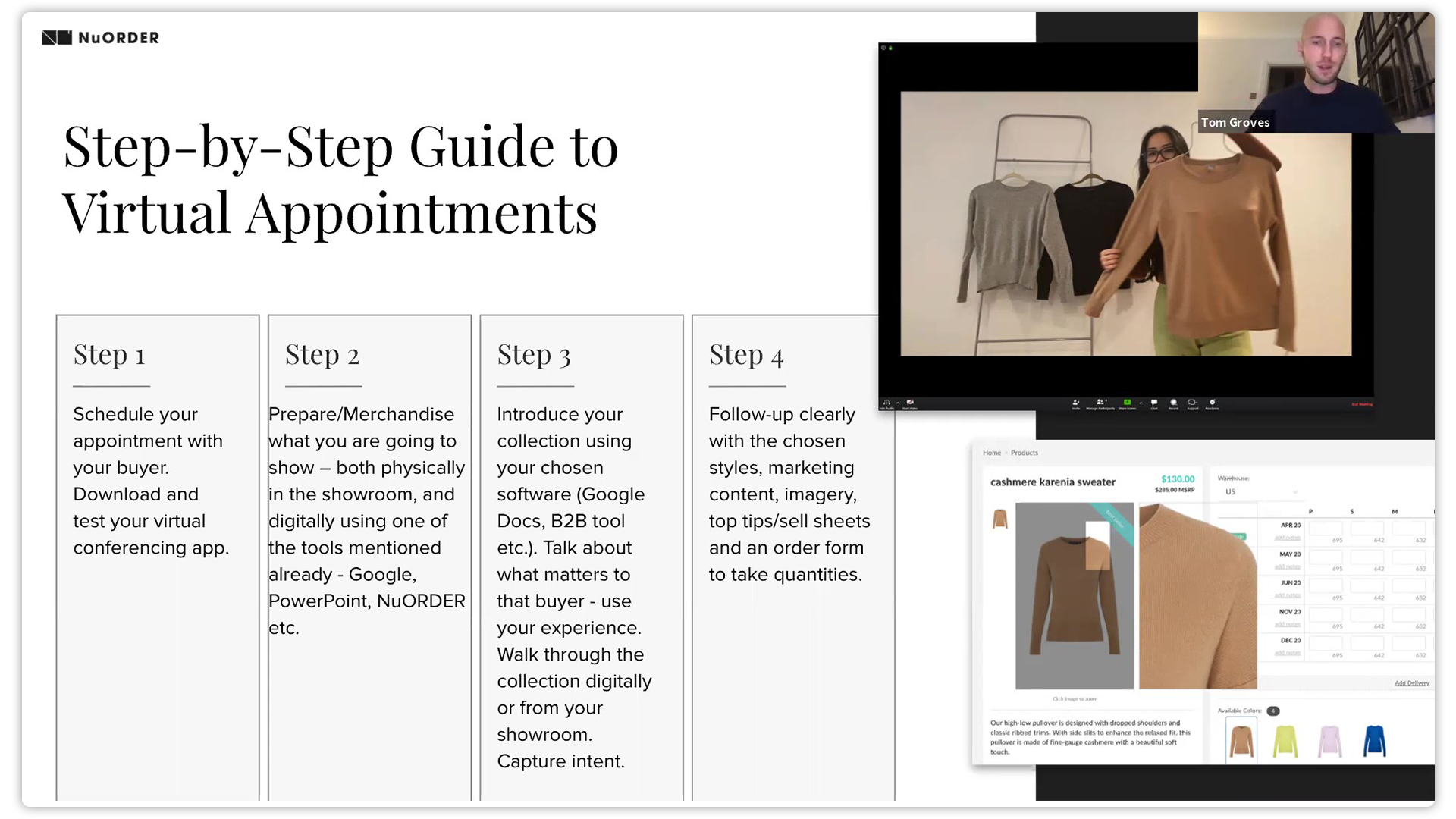 Wholesale buyers expect a better shopping experience
We're all spending more time online and so are buyers. They've been exposed to user-friendly D2C shopping experiences that are built with great UX/UI, and their expectations are rising for a better B2B buying experience. Features like virtual showrooms and curated linesheets give them a greater sense of how merchandise looks, communicates critical product information, and provides an immersive shopping experience that truly conveys the essence of your brand. Additionally, easier ordering and faster fulfillment are essential aspects of delivering a positive wholesale shopping experience.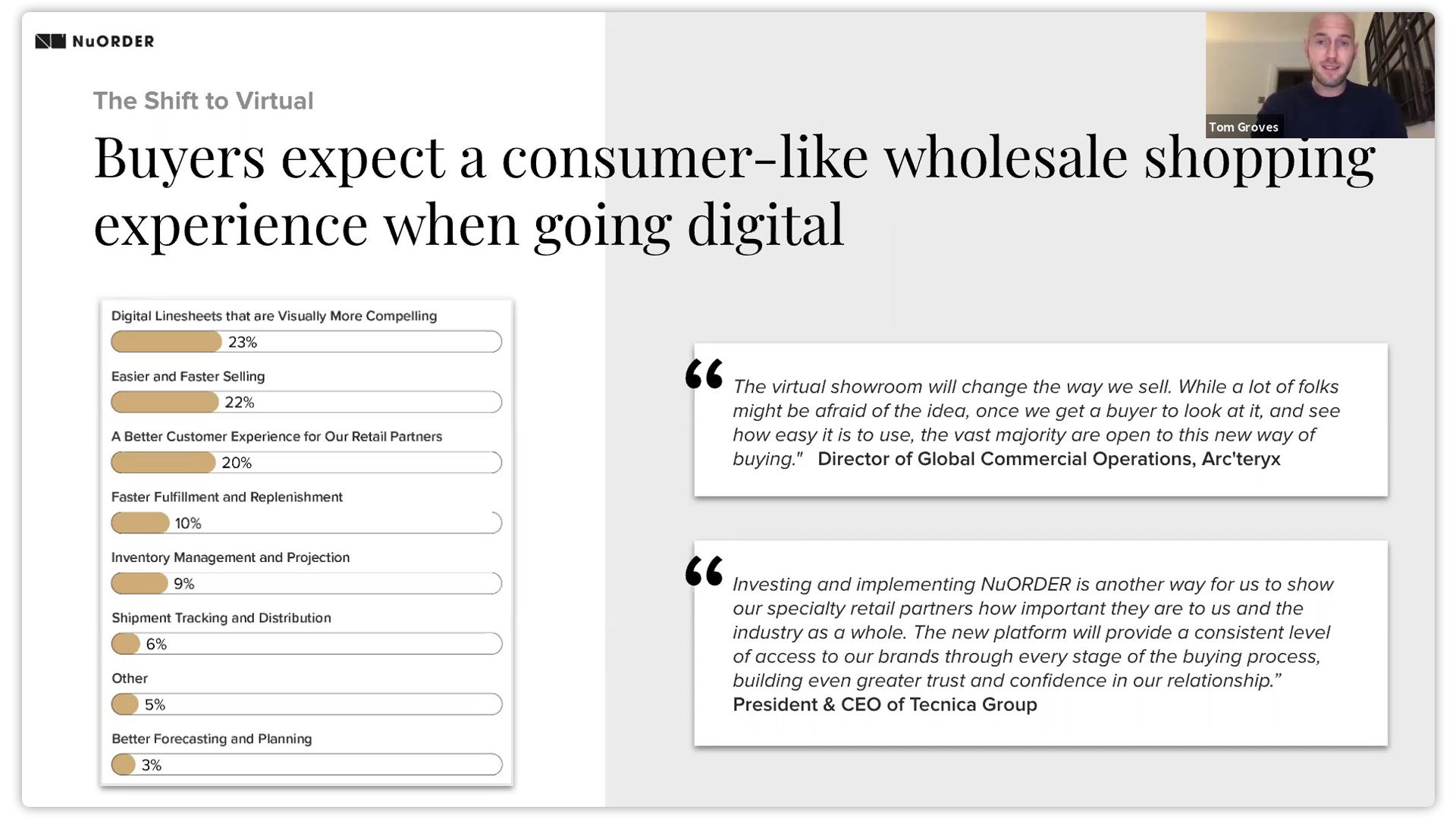 Create an informative monthly newsletter
In Part II: Tips for WInning the Upcoming Season with Darn Tough Vermont, the brand shares how they've managed to pivot and find success. One great idea suggested was a monthly newsletter. A monthly newsletter can be a great way to connect with retail buyers, informing them with the latest info on product lines, deadlines, media assets, and more. Additionally, Darn Tough found that by mentioning NuORDER Best Practices in their newsletter, they were able to drive user adoption and increase familiarity with their B2B portal by offering useful information.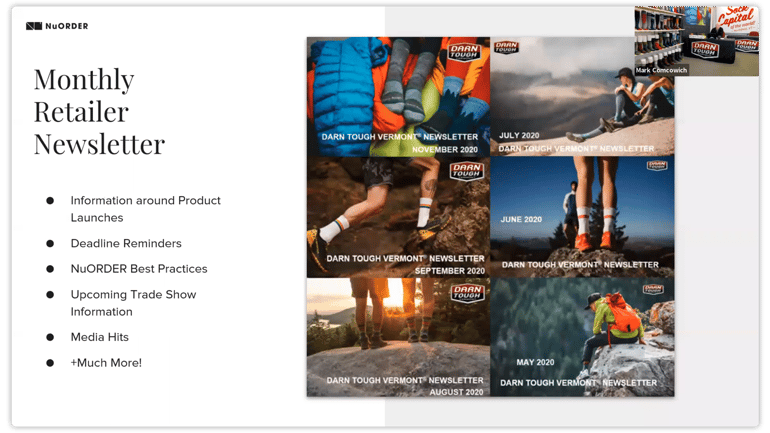 Make it easy for retail partners to share brand imagery on social
With more and more of us spending time online, retailers are turning to social media to market their products and connect with their customers. Darn Tough utilizes NuORDER and Image Relay to share assets with retailers. In addition, they prepare all their assets to be "plug-and-play" on Instagram and Facebook, so retailer partners can easily download the assets directly from NuORDER and share the latest product imagery with their online audience.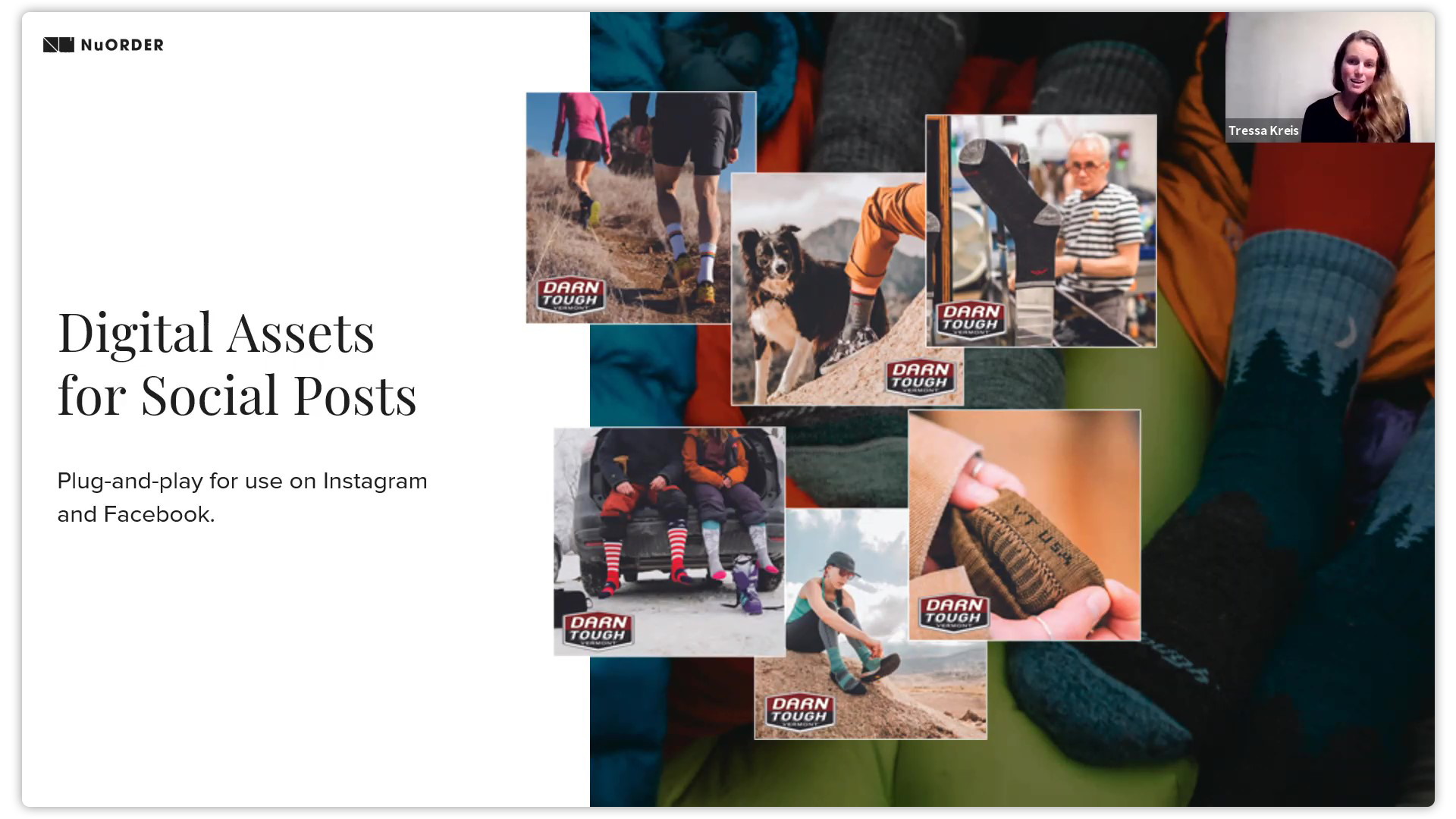 Wrap Up
Start with the B2B eCommerce Trends In 2021 That Will Be Impossible to Ignore webinar to get an overview of where the industry is headed, all backed by in-depth data from our Future of Wholesale Report. Part 1 of the Master Class series is great for getting started with virtual selling, from free to paid solutions that will enable a successful transition. Part 2 with Darn Tough Vermont gives brand insight into enabling your sales teams remotely, improving retail partnerships, and their tips for growth in a digital era. Find direct links to all three below:
Watch The Webinars On-Demand
B2B eCommerce Trends In 2021 That Will Be Impossible to Ignore
Master Class for Online Selling (2 Part Series):
Part I: Every You Need To Know To Go From Beginner To Pro
Part II: Tips for WInning the Upcoming Season with Darn Tough Vermont
Interested in taking your virtual selling to the next level with NuORDER? Click here to request a demo.