Wholesale is changing: retailers are looking to brands for a more collaborative experience to ensure a strategic approach to buying. Sales reps are then tasked with creating more personalized service for their customers and relying more on interdependent relationships with retailers.
Without a digital solution, sales reps are operating on clunky, outdated ordering systems, causing them to lose the opportunity to create fast, orderly, and individualized sales. Brands like Hammitt, a contemporary handbag brand, would spend days entering hundreds of orders by hand after trade shows resulting in numerous human errors and complex mistakes. They made the switch to become nearly 100% digital with NuORDER and now enjoy ample growth and the ability to prioritize and maintain relationships with buyers who've embraced the move to digital.
Just like every repairman needs their own sets of tools to get the job done, sales reps must have the best digital systems to provide customers and retailers with satisfaction from market appointment to delivery. Nearly 50% of retailers said they'd be willing to cut ties with a brand due to poor customer service so sales reps must arm themselves with the best tools to facilitate communication and streamline workflow.
What if you could create a seamless sales experience with just one dynamic tool? That's where NuORDER comes in.
Learn how NuORDER makes it easy for sales reps to:
Personalize catalogs and linesheets

Email buyers one-click shoppable linesheets

Finalize orders with ease using our EZ Orders tool
How To: Personalize Catalogs and Linesheets
Linesheets are an essential selling tool that allows you to market products in particular sets whether it's for seasons, collections, or any other specific assortment based on the needs and wants of your buyer or retailer.
Linesheet design is fast and easy with NuORDER. As a brand user on our platform, you can create and customize a catalog in the product gallery simply by dragging and dropping pieces into your customized linesheet or by selecting one or more products using the checkboxes. Once you've selected all the products you'd like to add, navigate to the Actions button and select "Add to Linesheet" from the drop-down menu. You can also use the search bar to find specific products.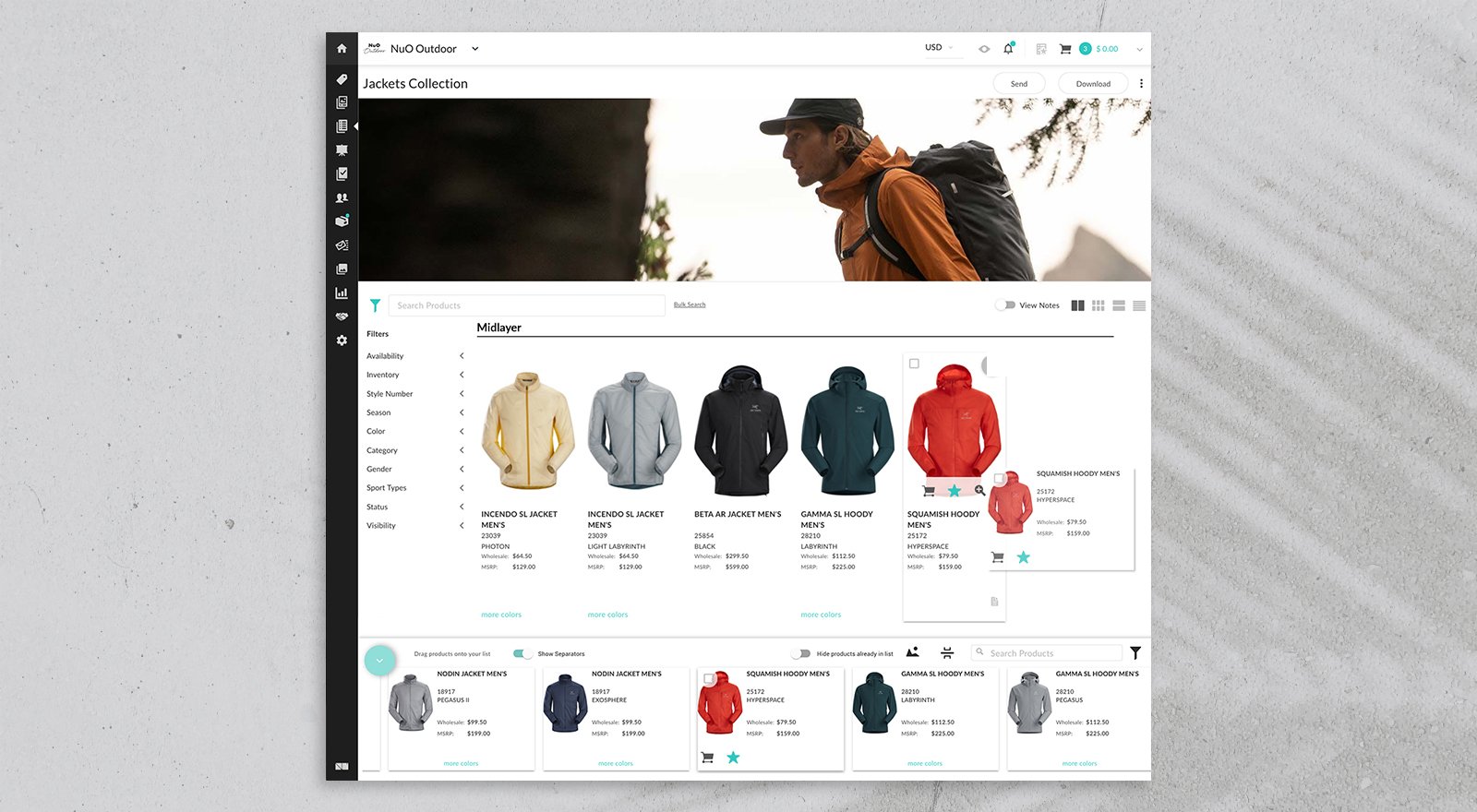 How To: Email Buyers One-Click Shoppable Linesheets
Once you've finalized your linesheet, it is incredibly easy to send it to buyers, allowing them to shop directly from your link! On our platform, you're able to either email the linesheets directly to your buyer or download a PDF or XLSX file to your computer. We'll walk you through how to email a shoppable linesheet.
A linesheet can be sent to one customer or a group of contacts. Simply select the "Send" button on the top right corner of your line sheet. A pop-up window will instruct you to enter the emails or contacts that you'd like to receive the customized catalog. As with any email, you'll be able to add a subject line and any other messaging you'd like to include, in addition to a campaign name.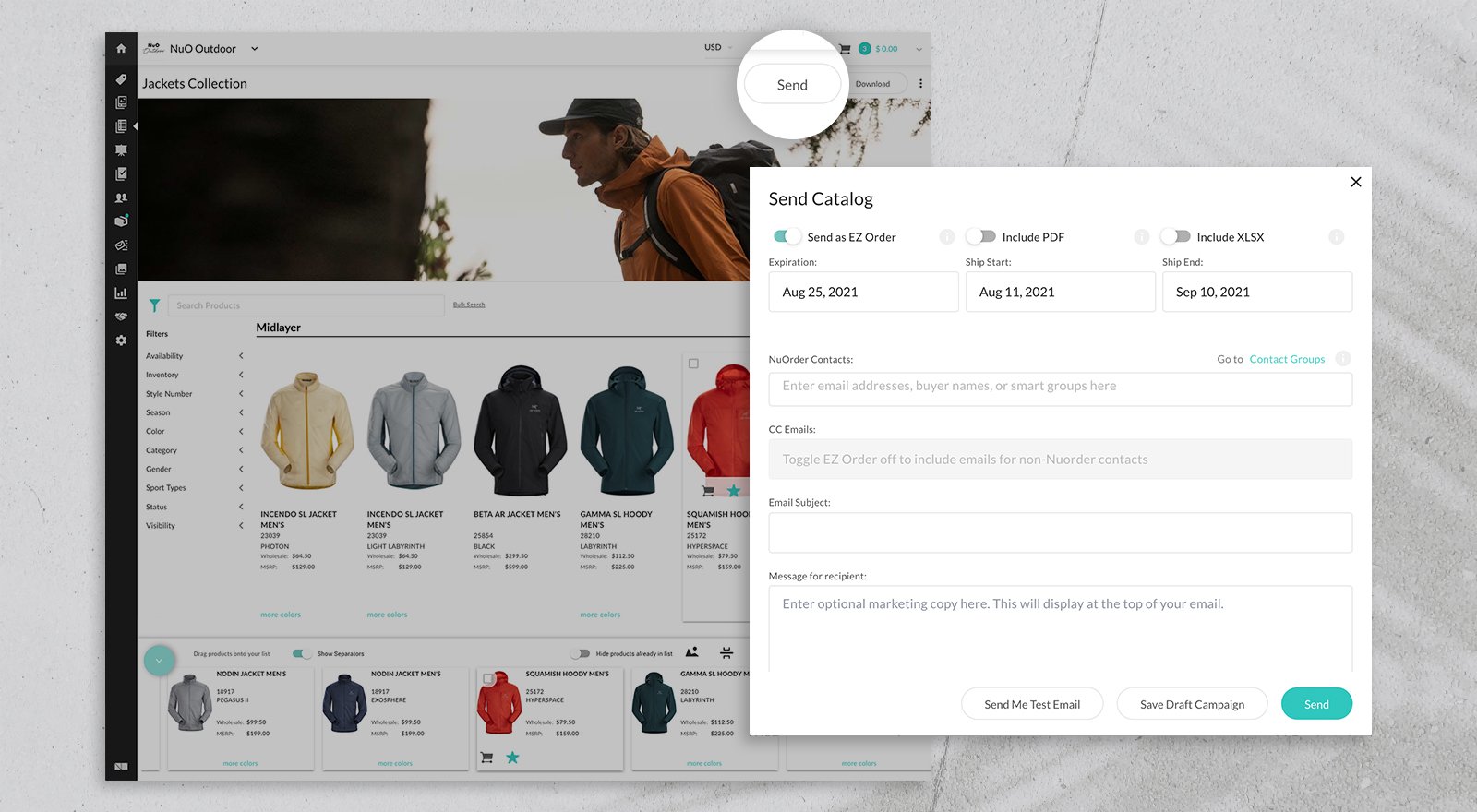 Bonus Tip: Want to highlight a product? Is it a bestseller, a new arrival, low in stock, or under any special promotions? You can apply custom banners to one or more products. Find this feature under Settings > Brand Admin > Product Catalog Settings > Product Banners.
How To: Finalize Orders Using the EZ Order Tool
If this hasn't been easy so far, things are about to get even EZ-er. With EZ Orders, your completed linesheet is instantly shoppable! It allows buyers to confirm quantities per product to complete their orders. EZ Orders can be sent from your customized linesheet. Once products are selected and quantities inputted, all your buyer will have to do is click 'Submit Order'.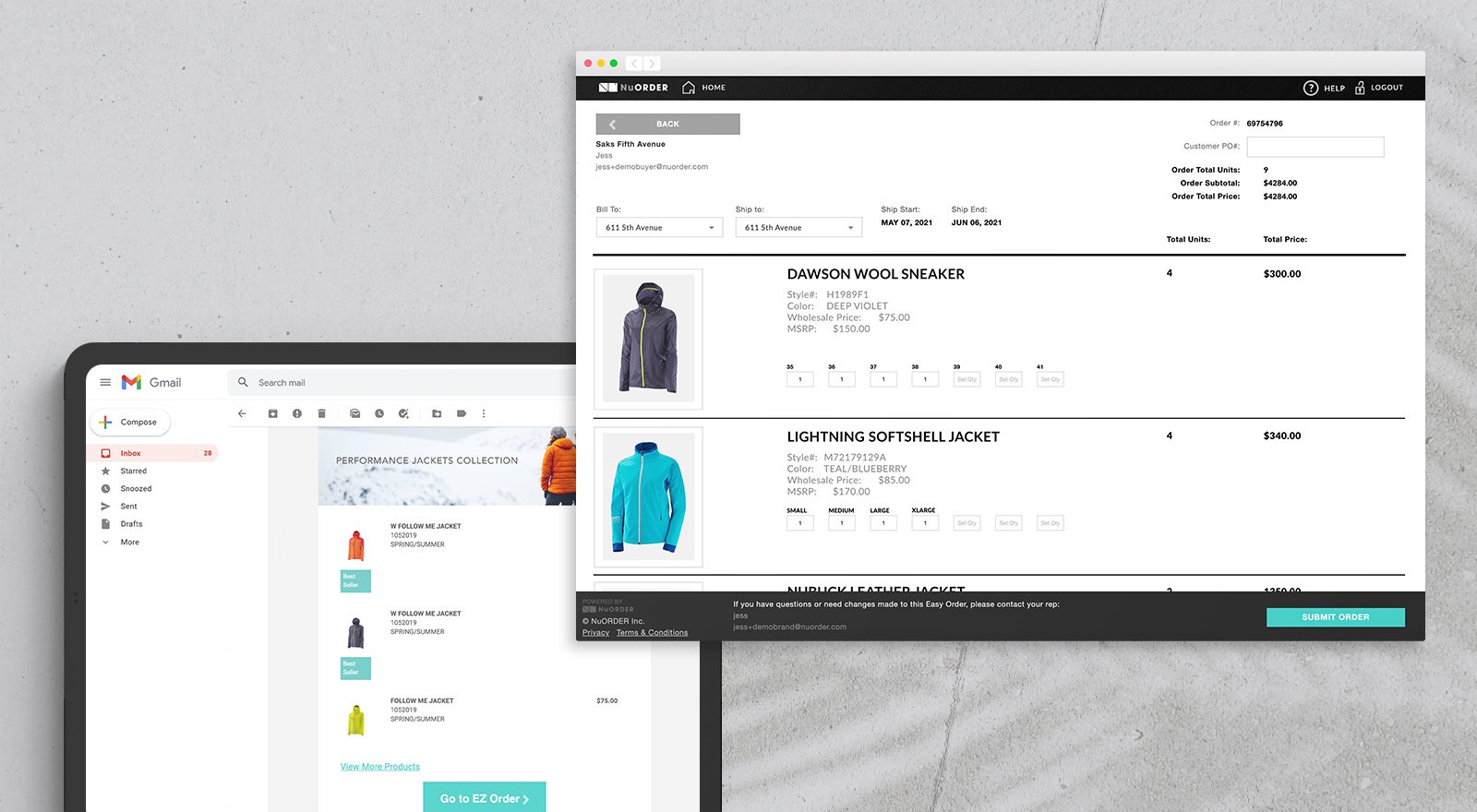 We're just getting started on the ways the modern sales rep can use NuORDER. Some of our other features that help tailor the wholesale experience include shipping to multiple warehouses and stores, flexible payment options, and so much more. What we've discussed in this blog is just the tip of the iceberg, but these fundamentals will get you on the path to providing the best experience to your buyers.
NuORDER serves as the ultimate tool for the needs of any sales rep. What was once a clutter of paper, spreadsheets, and human error, is now a neat and attractive workflow on our platform. For your sales needs, NuORDER is the tool to keep in your back pocket.
Visit our Helpdesk for comprehensive guides on how best to navigate these three key features.