The transformation over the past year has introduced the world into completely new ways of doing things. One of the highlights has been a new emphasis on shoppable catalogs for outdoor brands.
It sounds easy. But how do you assemble a shoppable catalog? What sorts of real-world shopping experiences do you want to emulate? What does a shoppable catalog look like on your website? Join us as we dive into how outdoor brands are using shoppable catalogs to grow and streamline their wholesale business.
Bringing Collections to Life Digitally
Think of your website as an opportunity to create a showroom experience from home. Outdoor brands will want to simulate the shopping experience in a few ways:
Navigation. Navigation should feel intuitive as if a customer stopped in a shop and started walking around. For example, visitors can "walk through" a showroom by browsing through an image carousel. With the simple click of a shopping cart icon, customers can virtually "toss" a product into their cart.
Creating "shopability." It's one thing to show your customers a series of images. It's another to give your customers the option of adding a product to a cart. When a customer is in a store, they only have to pick up an item to start the purchase. Create "shopability" at every turn to keep buyer friction as low as possible.
Telling stories. Are you using image carousels, videos, still text, and all sorts of other tools for making a product come alive through storytelling. When you move to shoppable catalogs, do more than present the product. Remember that you have to fill in for the showroom experience. What is your product's story, and how can you best tell it?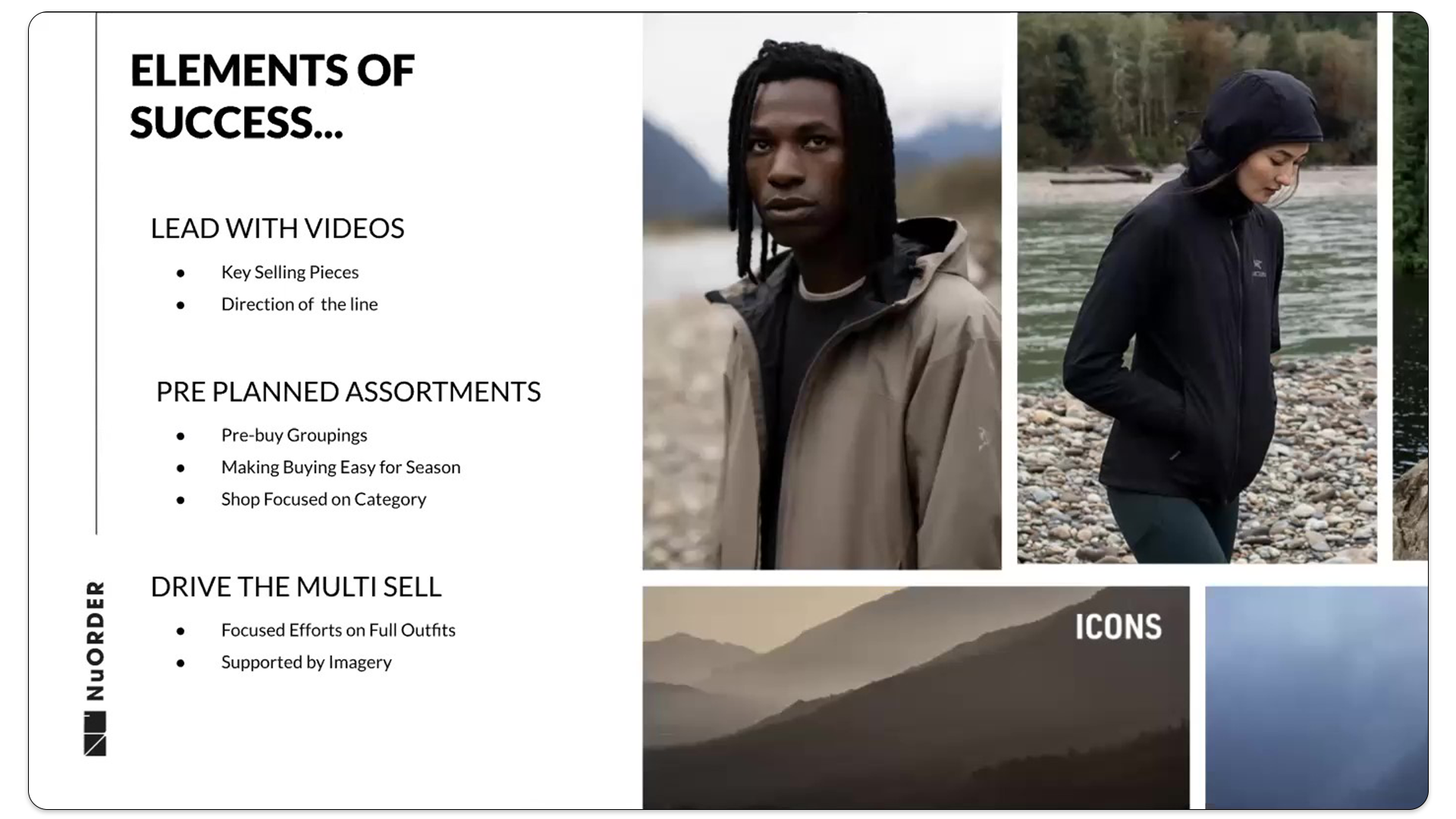 Create an Interactive Site that Responds to Buyers
Once you lay the foundation for a shoppable catalog, consider how you can deepen the experience:
Digital Catalogs. Who doesn't love a good "catalog" from their favorite outdoor brands? The key is making the images eCommerce-enabled. Think of your B2B site as a sort of virtual catalog: if a customer sees a product they like, give them a shortcut to placing the order.
Shoppable video. Shoppable video lets you turn any video into a point of sale, which means buyers can add the product in question to their cart without extra clicking around. This is a trend that isn't going anywhere,

having increased from 33% usage to an estimated 40% in 2020

.
360-degree imagery. One survey found that

67% of people wanted businesses

to provide more realistic "virtual" tours with their products and sales. Even from home, this can give the customer the feeling of being in the store, which encourages buying action.
Outwearbrand Nobis gives buyers a product walkthrough on their brand portal with a video introducing the collection, highlighting fabric details, and explaining key features. At the bottom right of their portal, they add an easy-to-access link to view their entire core collection. Their layout is an informative and intuitive experience for buyers shopping the brand online.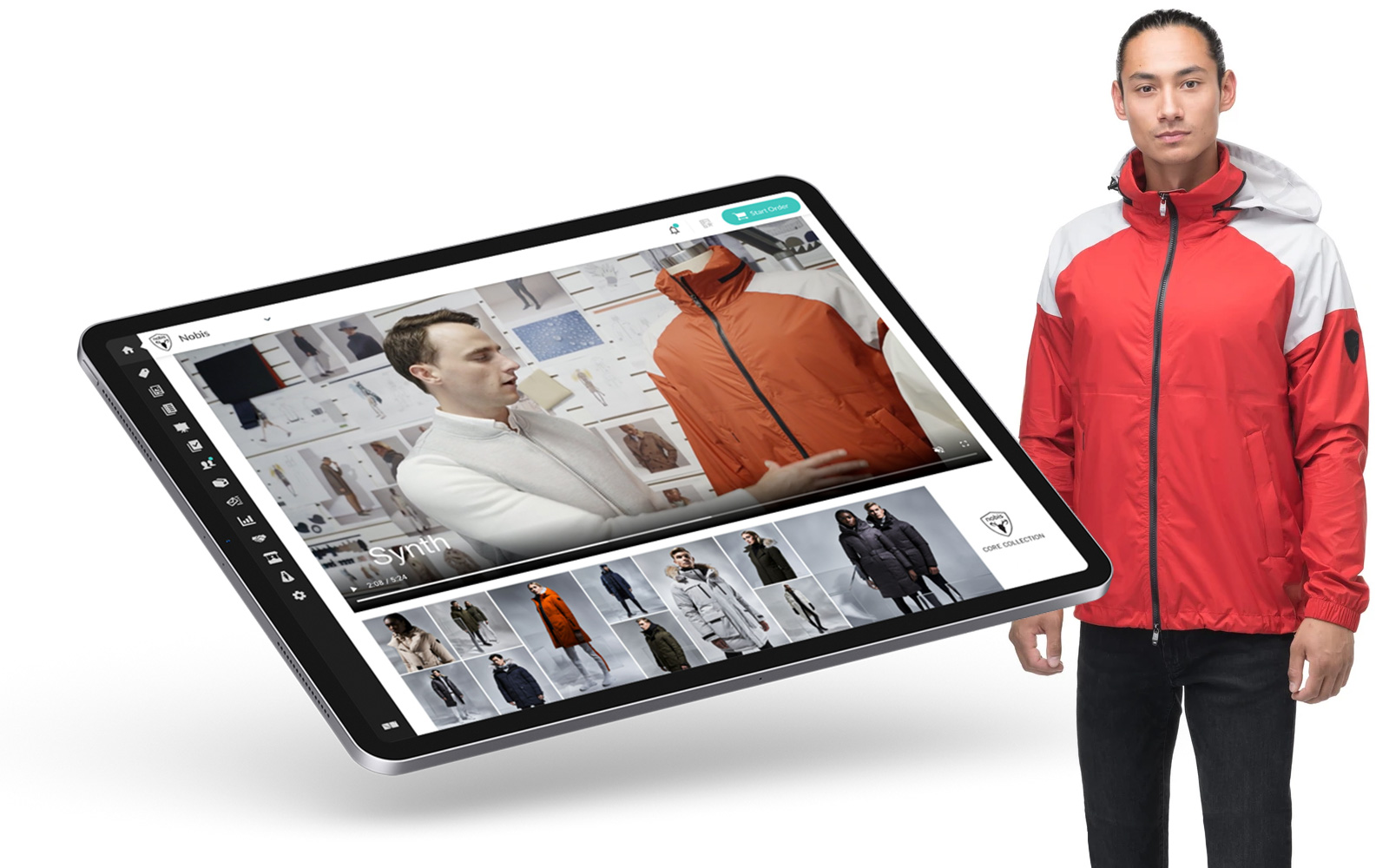 Use Your Homepage to Help Drive Sales
It starts with building the homepage. Think of your home page as the hallway connecting all of the various showrooms possible through your website.
This virtual "hallway" is also the time to entice people to shop further. New arrivals, new collections, new promotions—make sure to highlight these from the get-go. Your goal should be to have every important promotion no more than a click away.
Incorporate customer feedback to build your content. Are shoppers constantly asking your representatives for tech specs and product guides? Then make those available on your website.
Create a consistent visual experience. Don't make the customer have to think about where to click to buy. Place your buttons in the same space every time. The more consistent this is across lookbooks, product pages, and shoppable catalogs, the less friction you'll create.
Let customers filter their own results. Can they browse by category? By lifestyle? By price point?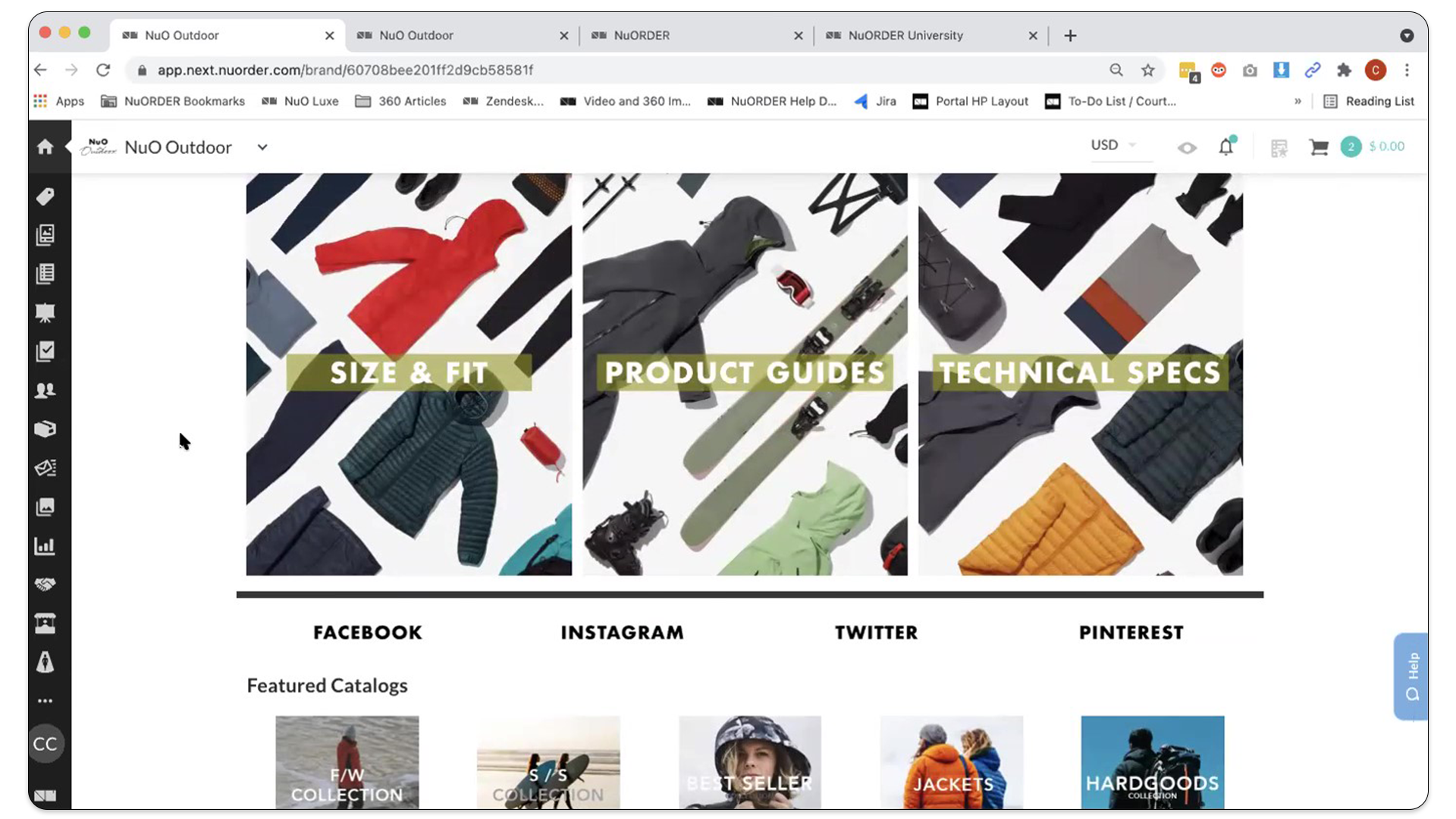 Outdoor Brands Using NuORDER
We've worked with brands like Arc'teryx, Black Diamond, and Canada Goose to help drive sales through shoppable catalog experiences. One common theme we've noticed as new brands approach us: hesitation to get started. Brands wonder where they'll find all this content. Does every product have a story worthy of a shoppable catalog?
With NuORDER, you can create stories about each product through the sum total of different content you create. Not every product has to tell an overly elaborate story. But by creating an immersive "showroom" experience with shoppable video, image carousels, and more, you'll make a customer feel the reality of a product in an entirely new way. It won't feel virtual. It will feel up-close and personal.
NuORDER's "Sites Manager" lets you edit pages without publishing them, giving you a leg up in drafting ideas ahead of time. You can experiment with your shoppable catalogs before you unleash them on the public. Optimize, enhance, and dig for new opportunities to tell amazing stories about your products. Your buyers will love you for it.
Want to see more examples of winning shoppable catalogs? Take a look at Vol. 1 of our shoppable catalog Inspo Guide.
If you're looking to watch a detailed look at outdoor brands using shoppable catalogs, check out our webinar "shoppable catalogs for Outdoor Brands".