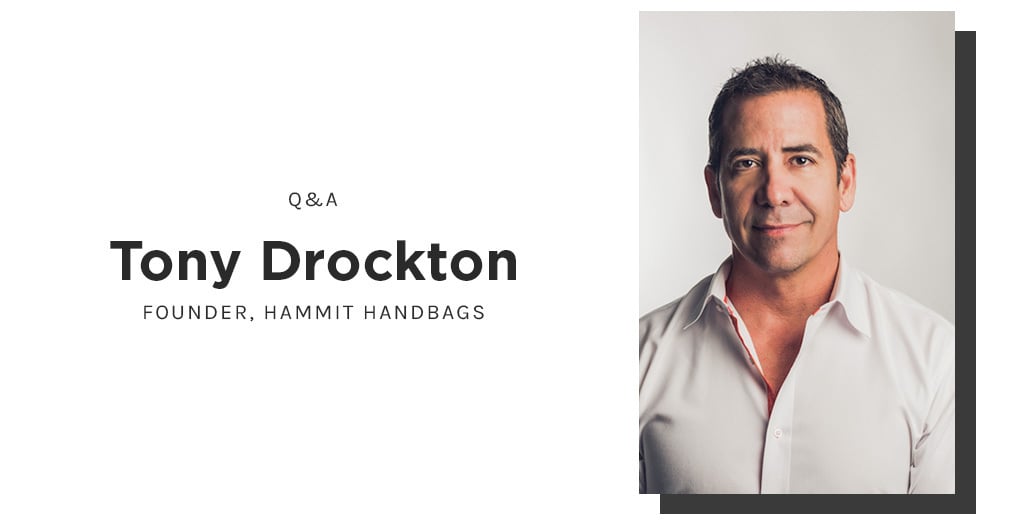 The CEO and founder of the luxury handbag brand, Hammitt Los Angeles, spent a week communicating with as many thought leaders, entrepreneurs, small business owners, and other contacts to gather as much data on the crisis as possible. He found inspiration in the unlikeliest of places, including entrepreneurial restaurants that have temporarily-converted their businesses into grocery stores, markets for staple goods, butcher shops and more. Most of all, Drockton discovered a great divide: "At this point, I don't think there is a solid path and it has to be based on where you are individually, where your company is, and what team you currently have in place." Still, the Hammitt CEO has a number of solid strategies of his own, and he spoke with NuORDER to share his unique perspective with the industry.
On Navigating Wholesale Orders:
Drockton is taking a hard stance on getting order commitments from his retailer partners in order to strengthen his relationships, pointing to a brand's major clients as their greatest allies. The promise is that if retailers truly stand behind their brand, Hammitt will do its part to support them in return. He advises others who aren't able to reach the same agreements to stop producing future orders for wholesale partners and to focus on direct sales until they're ready to pick things back up again.
On Approaching Promotions:
"Sorry to be so blunt, but this is not the time to go deeper into discounting unless your margins are so ridiculous that you could still make money. Instead, highly promotional brands are going to have to look at a reset. Focusing on the portions of their business where they're still getting great margins even if it's a smaller company with a smaller team. Get through this [in this] way and then live to fight another day," Drockton shares. He credits much of Hammitt's current success with their long-term stance against discounts. They don't discount wholesale accounts, giving anyone clients an advantage or discount online.
For other brands that haven't been traditionally promotional, including some of his favorites like Apple and Lululemon, he describes the age of coronavirus as a time to be creative to stay relevant to consumers so business will boom when life returns to normal. If the crisis does stretch out for an extended period, he recommends peppering in a few discounts as a very welcome offer from a traditionally non-promotional brand. As for Hammitt, they've opted for relevant gifts-with-purchases and limited-edition products. "We are thinking creatively every day, moving fast and trying new ideas," Drockton explains.
On Reassessing Your Business Model:
Hammitt's current business model is 55% wholesale, 45% DTC. They traditionally sell online and at in-person events; 60% of their wholesale clients are major retailers, and 40% are specialty stores. The brand's CEO explains this is the time to revisit business models to adapt to what works now. For instance, Drockton believes the trade show model is no longer effective. Witnessing new brands eschewing trade shows, he believes change has been slow going in the sector: "If your product was targeted directly for trade shows and only to sell through this avenue, then you are hurting the future of your business." Meanwhile the luxury brand founder sees the digital showroom as the way of the future, emphasizing how these platforms bring people together without the need to sit face-to-face.
"How people handle this will definitely set the tone for how their company performs once we get to the other side."
TONY DROCKTON
On Supply Chain and Manufacturing:
Hammitt's CEO says it's important to continue producing in order to maintain strong relationships with manufacturers. It's also time to switch manufacturing partners if there's an opportunity to retain quality while reducing costs. Drockton says it's time to temporarily focus on the SKUs that are sure to perform - your core line and bestsellers, while forgetting about SKUs associated with risk.
On Paying Employees:
Continue to pay your staff, Drockton advises. Try to get through this ordeal together and do what you can to free up funds. In Drockton's case, he has stopped receiving paychecks for his executive role.
On Maintaining Relationships with Customers:
Stay in touch with the shoppers who have always supported you. Open up communication via text message or a card and include a personal message. For B2B clients, Drockton suggests having your best salesperson direct message with your specialty retailer clients to check-in. Find out how they're doing, ask if there's any way you can help, share stories and just be genuinely concerned with what's happening with them. "The [brands] who have been this way from the beginning are going to make it," Drockton asserts.