Promotional strategies are a key ingredient in any successful brand's wholesale strategy. This makes implementing a B2B platform that has streamlined and easy-to-use tools for launching promotional campaigns equally important so that you can focus on maximizing your revenue in a time-efficient way. In this blog post, we'll share best practices for using promotions to help your brand drive sales, move inventory, and maximize ROI.
Planning A Successful Promotional Campaign
When planning promotional strategies for your brand, it's important to consider the overall objectives and goals of your promotion. Your strategy should be tailored to meet the specific needs of your target customers, as well as consider your current business needs.
Maybe you have a new collection you want to maximize sales and awareness for, or you're trying to move that last bit of inventory before the year's over. Or, if you know that a retail buyer in a specific geographic area is looking for clothing relevant to their season, you may want this promotional offer to only show up for them while they browse your collection. This makes for a highly personal, and effective promotions strategy.
Make sure your B2B tool has the functionality to run these types of promotions that are as simple or as complex as you need without any custom scripting or development, ultimately presenting your buyers with a self-service buying approach that encourages them to take advantage of promotions in real-time.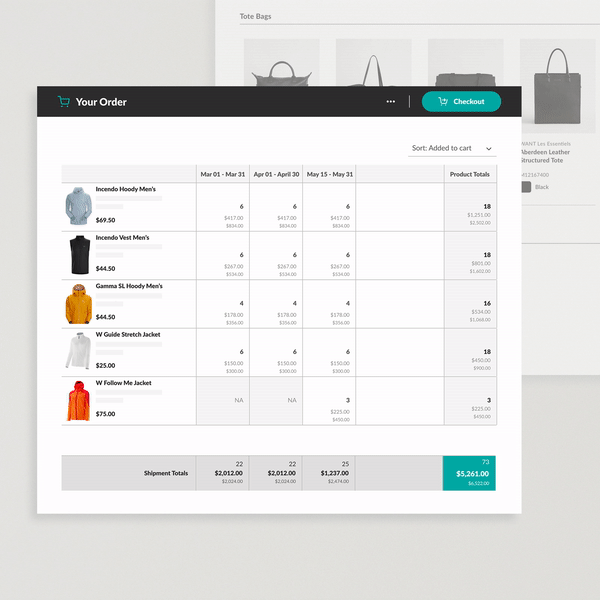 Leveraging Promotions To Drive Sales
First, consider which discount options you'd like to offer:
Volume/quantity of products purchased
Dollar-total amount of products purchased
Deciding which type is right for your business could be based strategically on your business objectives. Want to drive deeper adoption of specific products? Offer a discount that highlights products with tiered volume discounts. Want to drive your bottom line? Offer a discount based on the total dollar amount purchased.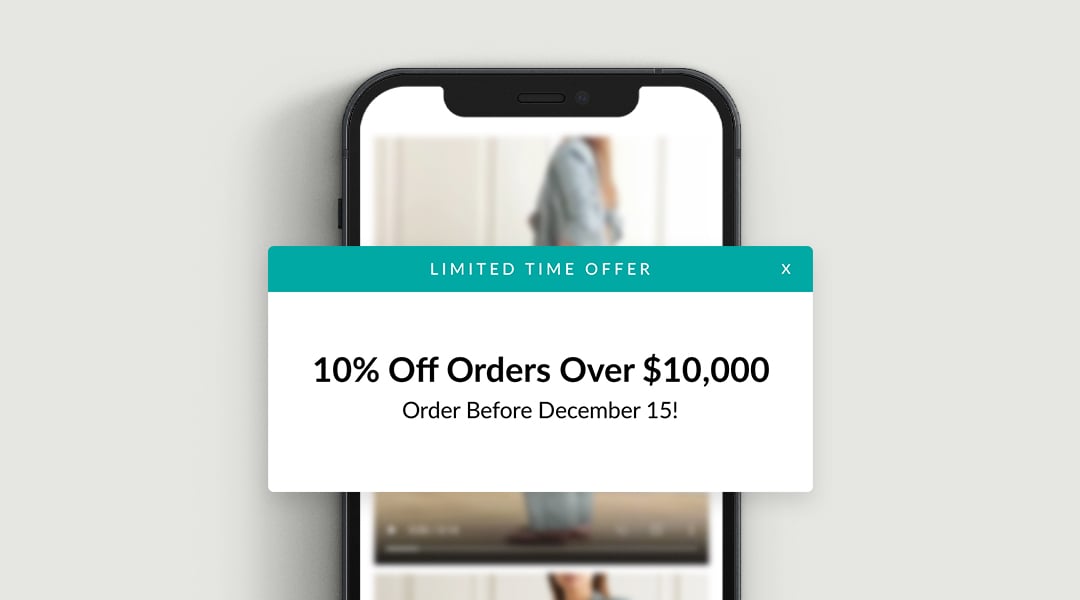 From there, factor in additional business needs for your brand:
Is your average order value declining or stagnant? Encourage top accounts to buy more with volume discounts.




Do you have excess inventory sitting in your warehouse? Run close-out incentives to clear your shelves.

Experiencing an uptick in canceled orders? Run ATS flash sales to move inventory in a timely manner.

Is currency volatility impacting your business? Run promotions in target regions to boost your global sales.
Plan the range of customers you'd like this promotion to be offered to on your B2B portal. Maybe you want to offer a specific retail partner 10% off all orders where they buy between 400-800 pieces, and then offer a tiered discount that continues to increase to match the quantity purchased, up until whatever limit you set.
Don't Forget The Visuals!
You'll want to make sure it's very evident to your buyers that specific promotions exist or are within reach with a visual cue on your brand portal.
Setting up a notification banner that indicates that they're only $100 dollars away, or only need to buy 50 more pieces of a product to get a 10% discount, could very well be the push a buyer needs to buy more.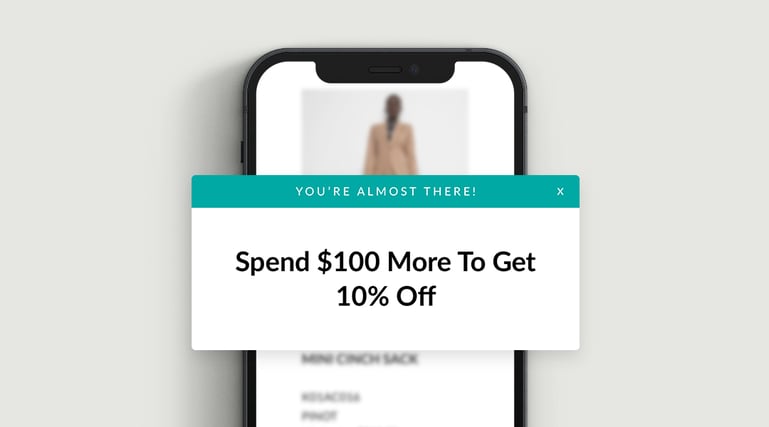 What To Look For In A B2B-Promotions Tool
Many B2B platforms currently offer promotions functionality, but not all are created equal. Be sure to look out for a solution that makes it easy to launch the types of promotions that are most helpful and relevant to your business.
From the ease of use and self-service aspect to pre-season planning and driving deeper adoption for specific products, promotions can be a helpful method for increasing your average cart value.
NuORDER by Lightspeed is proud to offer a Promotions Manager that can help your brand build powerful promotions in a simple way. Flexible on the product or order level, you can tailor promotions to meet a variety of customer criteria in a way that is strategic and helps you sell more without undercutting your brand value. Want to see it for yourself? Click here or the button below to request a demo.